10 Free Communication Apps You Should Use Today
Here are 10 free communication apps you should use today. The most recent additions are listed below, but feel free to explore the entire list.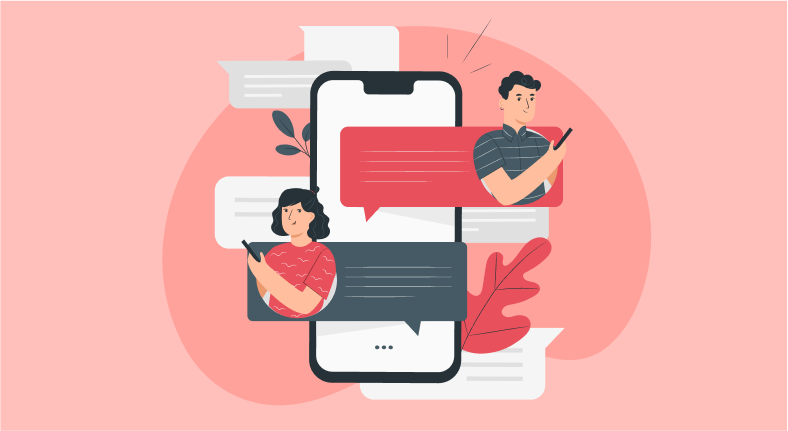 Today, we text more frequently than we call. Not that we never make calls now; it's just that they take longer and are frequently inconvenient. Without having to be glued to your phone for an hour on a call, texting offers a quick way to communicate.
Our use of messaging applications has increased recently because they provide more functionality than SMS messaging apps. Messaging apps provide enjoyable methods to personalize conversations with friends, classmates, or coworkers. You require free chat apps accessible across many platforms if you want a seamless way to communicate with your family and friends. Ideally on desktop and mobile.
What free cross-platform chat applications should you try out then? What are the top instant messaging applications currently on the market? Find out by reading on.
Free Communication Apps for Your Business
WhatsApp
WhatsApp continues to have a significant lead over all other messaging apps in the world, despite the Facebook acquisition and worries over advertising. More than 2.5 billion people are using it each month as of this writing, and the pace isn't slowing down.
What about cross-platform messaging, though? Both the Apple App Store and the Google Play Store provide WhatsApp apps. There are also standalone desktop apps for Windows and Mac, a web app (to which you need a QR code to log in), and other options. Unfortunately, WhatsApp doesn't exist on Linux.
Voice and video chat, 256-person groups, and end-to-end encryption for all messages are additional noteworthy WhatsApp features.
Telegram
The top messaging apps for PC will be of interest to Windows users. We believe Telegram's Windows client to be the best of all the options.
The app has all the same functionality as the mobile versions and is incredibly lightweight and quick. Additionally, unlike WhatsApp, you may log in with just your phone number without a QR code. Unusually, Telegram even provides a portable Windows client that you may use on every Windows machine you're using without having to install it.
There are Android and iOS apps as well as a macOS client for Telegram. On this list, it is also the first free chat program that supports Linux. The ability to plan messages for the future, groups with up to 200,000 members, bot integration, and support for self-destructing messages are some of Telegram's most practical features.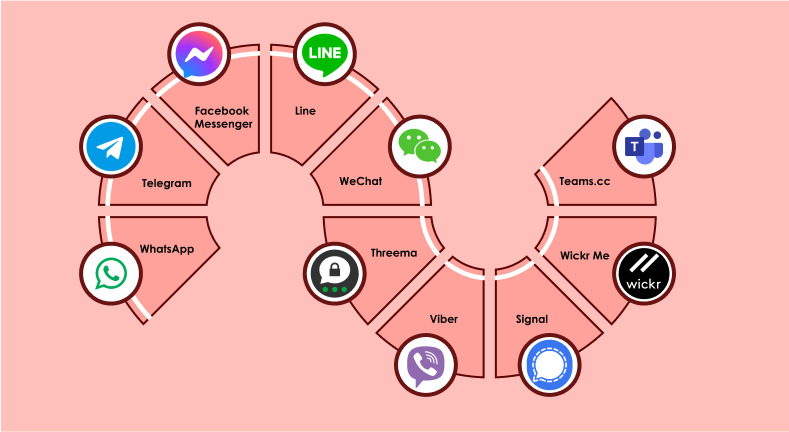 Facebook Messenger
Facebook Messenger benefits from having a big user base, similar to WhatsApp. Any instant messaging app is ultimately useless if the individuals you wish to communicate with frequently do not have the app installed.
For iOS and Android, Facebook Messenger has separate apps. They also have a Windows app that functions and seems the same as mobile apps. But if you're using Linux or macOS, you'll have to use the web app because Facebook hasn't created a standalone desktop Messenger software for those operating systems.
Line
One of the most widely used messaging apps in Asia is called Line. In Japan, Thailand, Indonesia, and Taiwan, it dominates the market. The line is a vital free chat software to have if you have friends and family there.
Thankfully, Line also offers outstanding cross-platform compatibility. For the PC, macOS, Android, and iOS platforms, Line apps are available. If you wish to send instant messages straight from your web browser, you may also install the Line Chrome extension.
Line has a chat feature as well as video messaging and real-time location-sharing capabilities. You may even use it to follow accounts from brands, music singers, sports teams, celebrities, and more.
WeChat
The third most used messaging platform worldwide, behind Facebook Messenger and WhatsApp, is WeChat. This is a wonderful option if you want free chat software to communicate with people in China. It is the most popular instant messaging service in that nation.
Another free chat program with strong cross-platform compatibility, WeChat is accessible on Android, iOS, and desktops. WeChat does not have a messaging app for Linux having one for Windows and macOS? To chat with your friends if you use a Linux distribution, you must utilize the service's online application.
Threema
End-to-end encryption is employed by the open-source, highly secure Threema application. Since all of the servers are located in Switzerland, it is possible to benefit from the nation's excellent consumer protection regulations (unlike apps in the US, which are all subject to the CLOUD act). The app's enterprise-specific service, Threema.Work makes it a fantastic solution for enterprises as well. It offers IT teams alternatives for user management, app configuration, and administration. For businesses that are extremely concerned about security, there is also a self-hosted option.
Threema is accessible online, on Android, iOS, Windows, macOS, and Linux. It costs $4 one time only.
Improve Team Communication to Boost Your Business Productivity Today! Sign Up 14 Day Trial
Viber
Viber is the next application on our list of free chat apps. It's frequently viewed as WhatsApp's main rival. However, there are some significant variations despite the fact that they have some identical capabilities (such as end-to-end encryption, voice and video conversations, private group chats, and connectivity with Google Assistant and Siri).
Viber, for instance, offers a function called Viber Out. You can use this VOIP service to contact landlines and mobile phones all around the world. The Viber app also allows you to follow public accounts and chats, create secret talks, and even play games.
Despite the variations, Viber is still a well-liked instant messaging application. It supports multiple platforms and features apps for Windows, Mac, Android, and iOS. There is an online application that, like WhatsApp, requires a QR code to log in.
Signal
One of the most adaptable free chat programs is called Signal, and it is available for Windows, Mac, Linux, Android, and iOS.
Over the years, Signal has gathered a devoted following thanks to its emphasis on privacy. Bruce Schneier, Jack Dorsey, and Edward Snowden have praised its stability, usability, open-source status, and privacy.
Unlimited group sizes, end-to-end encryption, and a "note to self" function are among the features.
Wickr Me
Check out Wickr Me if you want your chat software to have even more security. It is renowned for providing security features that none of its rivals offer.
It has a built-in VPN, all communications self-destruct after six days, and there is a "shredder" option that automatically overwrites erased messages to render them unrecoverable, for instance, and there is no requirement to enter a phone number or any other form of identification to get started.
Teams.cc
If you're looking for a free communication app that you can use for your company as well as for personal communication, Teams.cc is the perfect solution for you.
Teams.cc by 500apps has been developed for team communication, and task management, and since it's absolutely free, you can even use it for personal communication. This tool has an extremely user-friendly interface with intuitive features and icons. Additionally, it supports high-quality audio and video calls, app integrations, attachments, emojis, and much more. You can also create private and public channels to easily communicate with multiple people.
This app comes with 500apps' All-in-One Infinity Suite with 50+ apps to optimize your end-to-end business operations. It is free to use for up to 10 people and costs only $14.99 for the entire suite thereafter.
With these features and many more, Teams.cc stands as our top choice for free communication apps you must try out.
Conclusion
The built-in SMS messaging software on your phone can be effectively replaced by any of these free messaging apps. And to top it off, if you wanted to use one of these as your main messaging app, the majority of them also support sending and receiving SMS texts.
You can speak with your friends and family more amusingly and individually using messaging apps, whether they are nearby or abroad. However, if you still like SMS, there are several excellent apps to pick from.
#1
Create unlimited number of public and private channels for an effective team collaboration
#2
Communicate across teams using instant text chat, voice recording, & HD video calling
#3
Share files from local drives and cloud storages with teammates securely
#4
Increase team productivity with mobile access, anytime and anywhere
#5
Find documents, links, specific messages, and more with integrated search
#6
Connect 200+ popular apps to collaborate effortlessly
#7
Personalize messages with reactions, mentions, bulletin points and more
#8
Prioritize information by pinning messages
#9
Unbelievable pricing - the lowest you will ever find
#10
Everything your business needs - 50 apps, 24/5 support and 99.95% uptime
Join the SaaS Revolution
All-in-One Suite of 50 apps

Unbelievable pricing - $14.99/user

24/5 Chat, Phone and Email Support