12 Tips to Keep Employees Motivated with Team Chat Software
The onus now lies on you as a business owner to get the best out of your workers irrespective of where they work from. Fortunately, we are here to help you.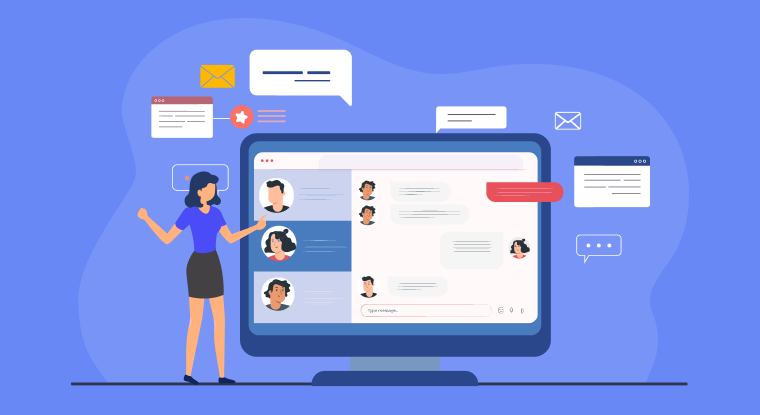 With the world just recuperating from the Covid pandemic, motivation among employees is hard to come by. The pandemic forced businesses to make their employees work from home. However, the absence of the usual bustling that comes with the office space made it a difficult transition for employees. With effective online collaboration and the right amount of attention, you can keep their motivation intact.
We have Highlighted 12 Tips to Keep Your Remote Employees Happy and Productive with Team Chat Software
1. The Right Tool
This tops the list of things to do. Understandably, businesses are forced overnight to embrace remote working. Without the space for preparation, many brands and employees are in the lurch on how to recreate the office space virtually.
Most companies grab the next software on the shelf as their office space, leaving the employees disoriented and perplexed. It would help if you used the right software. A tool like team collaboration is embedded with features to aid the seamless transition of your team to an online space. It has a decluttered interface that is easy to use and will motivate your team to use it.
2. Data Security
You can guarantee the security of the data within your office space. However, you have no idea how secure their PCs are with your employees working remotely. Therefore, you need to help them beef up the security of the computers. You can do this by providing anti-virus software. Remember, your employees cannot call the IT guy to correct their system crashes from home. If their systems consistently get infected, employees will get demoralized.
3. Add Incentives
This might sound farfetched, but it is effective. Your employees are working from home, in their comfort space; you need to help them relax. Adding incentives like DSTV, Amazon Prime, and Netflix subscriptions will go a long way in motivating them to work better. Suffice it to say, these highlighted incentives might be the distractions you need to get your employees away from their little ones.
4. Communication
The office space is more than a place of work. It is a living organism that thrives on the interpersonal relationship of the employees. To get the best out of your remote teams, you need to recreate this virtually. To do this, you need to prioritize team communication. Share as many details as possible about each task. Encourage the exchange of information among team members. When your employees feel like they have a goal and understand their role in achieving it, they will be more motivated.
5. Experiment
Remote working is new terrain for you, and you should not be too shy to admit that. Do well to experiment with as many ideas as you can think of till you have one that works well for you. You are no longer in your traditional office surroundings; you are at the precipice of a new forever. The techniques that worked so well in your physical offices might not work here. Try out new strategies for motivating your employees and stick to the one that works. It is okay to perform some trial and error when seeking motivation.
6. Encourage Feedback
Ordinarily, a functioning organization should allow feedback, especially from employees. However, now that they are working remotely, you need to encourage it further. Your employees lack physical interactions and would be reluctant to give feedback. Also, they are the ones on the receiving end of your new form of motivation; they must have better ideas on how you can help them perform better. However, when you receive feedback, you should listen between the lines. Your employees are likely not to give direct opinions.
7. Monitor Timesheets
Although your employees are working from home, you still need to maintain a level of strict adherence to organizational policies—for example, the timesheet. Now that they are working remotely, there is a chance some employees will become lax at their duties. Proper monitoring of timesheets and absent records will help you maintain control and keep them motivated. To allow easy access, you should use employee monitoring software as a one-stop destination for everything related to human capital.
8. Be Available
Although you have been available, dishing out information and duties. It would help if you showed your face to your employees. Let them know you are more than a voice or a speck of ink on the screen.
Team.cc will enable you to schedule audio and video calls periodically with the video conferencing feature. When you speak face-to-face with your team, your work carries more weight and easily motivates your employees. Over the call, relate with your employees. Do not focus only on office work; check up on their well-being and make them feel valued.
9. Health Benefits
Now that your employees are working from home, you shouldn't be too cavalier about their health. The health of your employees should remain paramount irrespective of where they are. So, it would help if you gave them health benefits regularly. You can decide to purchase insurance coverage for them and their families. This will surely increase their motivation and put their all into their duties. In addition, this will give you a good public perception as an organization that prioritizes its employees' well-being in these changing times.
10. Allocate Time for Team Building Activities
The goal is to recreate the bustling atmosphere of the physical office virtually. To do this, you need to allocate time for frivolities. Your remote workers no longer bond over coffee breaks, so you need to factor in bonding times. They can be once a month or fortnightly. Ensure you have earmark bonding activities like virtual games, jokes, and gist sessions. This will encourage teamwork collaboration among team members and increase the sense of belonging of each employee. Also, it will boost morale as a break from consistent office work.
11. Trust Your Employee
It is understandable if you have creeping feelings of distrust toward your employees. They are not physically present, and you might think they won't do the task effectively. You need to take the leap and trust your employees. They are still as capable remotely as they are in the office space. Communicate your faith in them with them. Let them know you are confident they will perform each task swiftly and appropriately. Verbally communicating your confidence will go a long way in motivating them.
12. Challenge Your Team
It will be amiss if you have a team they do the same thing repeatedly. It would help if you challenged your employees on their job. Push their limits. Give them new kinds of work. Help them become better versions of themselves. So far you trust them, your team will want to impress you. When you push your team, they will grow in confidence. A confident team rarely lacks motivation.
Use Team Chat Software to Streamline Collaboration Efforts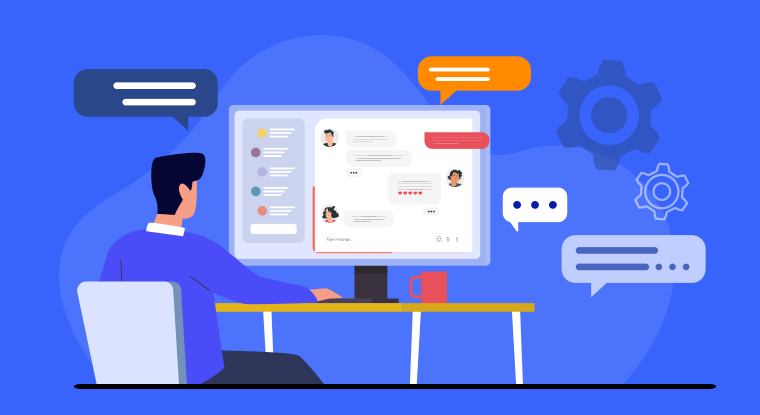 Team.cc is an all-in-one team chat software designed for streamlined communication with the team. The software integrates seamlessly with your CRM, help desk, and project management applications. With features like enhanced channel management, videoconferencing, private messages, and team messages, Team.cc is what you need to adapt to the world of remote working. Along with communication, you can improve your entire business operations with applications across all essential platforms that are available as part of 500apps, of which Teams.cc is a crucial player. You can utilize the 39 applications of the business suite and improve the way your business runs in the post-covid transformation.
Conclusion
Remote working is here to stay. This is not only because of the post-pandemic effect, but remote working is also the new normal. With the market inundated with tech jobs, employees can work anywhere while staying productive. Businesses are fast tapping into the trend with non-tech jobs. Also, companies can work with reduced financial outlay on structures and logistics while increasing their revenues. In all, remote works quickly become the requisites employees look for before applying for a job.
Use the tips above to make your employees more productive while working remotely. Applying them might be the guarantee of the future of your organization.
#1
Create unlimited number of public and private channels for an effective team collaboration
#2
Communicate across teams using instant text chat, voice recording, & HD video calling
#3
Share files from local drives and cloud storages with teammates securely
#4
Increase team productivity with mobile access, anytime and anywhere
#5
Find documents, links, specific messages, and more with integrated search
#6
Connect 200+ popular apps to collaborate effortlessly
#7
Personalize messages with reactions, mentions, bulletin points and more
#8
Prioritize information by pinning messages
#9
Unbelievable pricing - the lowest you will ever find
#10
Everything your business needs - 50 apps, 24/5 support and 99.95% uptime
Join the SaaS Revolution
All-in-One Suite of 50 apps

Unbelievable pricing - $14.99/user

24/5 Chat, Phone and Email Support