Does the Future of Business Involve More Online Collaboration?
This article explores the evolution of online collaboration and how it's poised to take center stage in tomorrow's workplace.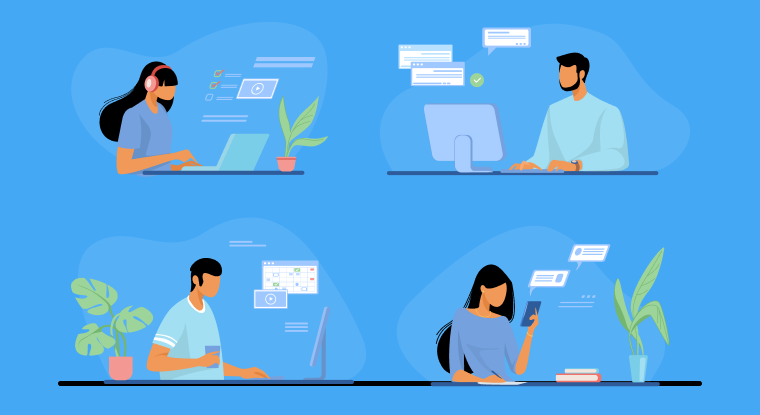 With the Internet breaking communication barriers worldwide, corporations are now doing away with office walls. Today, team members can work together, send important information, and receive feedback from anywhere in the world. And with industry leaders harnessing the Internet to build teams of top talent across the globe, the office of tomorrow is changing.
According to a recent report by McKinsey, research shows that up to 80% of teams around the world now use collaboration tools in their work. Today, instant file sharing, real-time updates, and instant communication are the norm for teams worldwide. Online collaboration allows teams to boost their productivity in more significant ways and has seen increased adoption recently. With the increased adoption of collaboration tools and team chat software in several organizations, it is becoming increasingly clear that online collaboration is necessary for the future of work.
We know you and your business are looking to harness this trend to boost your team's productivity, and we want you to take advantage of these new advances in collaboration technology. In this article, we'll look at what online collaboration is and how it has evolved. We'll also look at the benefits of online collaboration and how it can help your business reach new heights.
What Defines Online Collaboration?
Collaboration is already a common feature in the workplace. It involves two or more people working together to achieve a common goal. It's known to improve productivity, facilitate better outcomes, and optimize work processes.
Online collaboration is based on the same principles, but it harnesses the power of the Internet. Online collaboration means using the Internet or web-based tools to collaborate on specific tasks or projects. So, rather than working together in an office or other physical location, communication and collaboration are taken online, and team members can work on a project remotely. This tool may be as simple as a spreadsheet that team members can view and edit, or it can be as complex as a digital workplace where employees can send chat messages, share files, hold video conferences, and more.
Online collaboration makes working in teams more effortless and is especially crucial for remote teams. Teams may harness online collaboration in two ways:
Synchronous Collaboration
In synchronous collaboration, team members work on a project together in real time. Video conferencing and voice calling software are great tools for this.
Asynchronous Collaboration
Here, two or more team members can collaborate on projects at different times. This way, everyone can contribute to the project when it's more convenient for them, and there is no need for workers to be available simultaneously before working on a project together.
Evolution of Online Collaboration
Today, online collaboration has improved dramatically. However, the vision of collaborating over the Internet is as old as the Internet itself. The researchers that built the Internet were looking for a way to communicate remotely and thought of using wireless networks over a computer. ARPANET appeared in the late 1960s, and researchers could upload their database to a web-based data storage system, and researchers in one facility could gain access to data from another facility. This way, nobody needed to leave their labs to access the data required.
With the evolution of personal computers and email, however, online collaboration became more personalized than a central data storage system, and people could send private messages instantly. The email continued to add more and more functionality as the Internet evolved, and people became increasingly able to send a greater variety of documents, including videos, photos, spreadsheets, and more.
In today's digital world, online collaboration has become even more advanced. Now, entire companies can work online as virtual collaboration tools like Teams.cc and Microsoft 365 allow team members to send messages, share files, chat with one another, and collaborate on documents remotely on various devices. This has made the collaboration process even easier for teams, as communication has become more simplified and real-time collaboration is possible, no matter where team members are.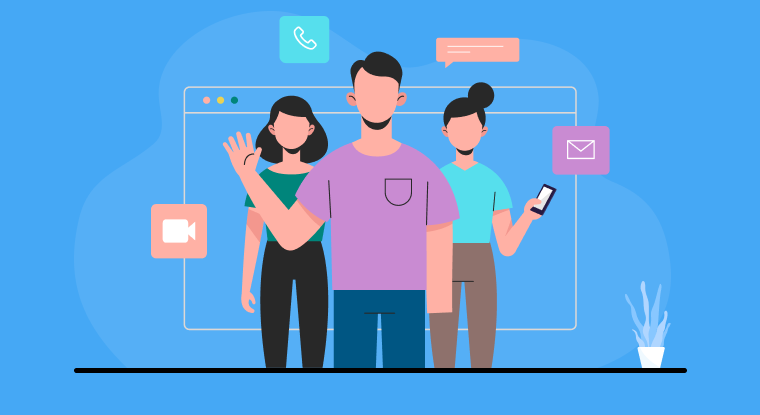 Benefits of Online Collaboration
Online collaboration has become an increasingly important part of the modern workplace. With the rise of the internet and the globalization of businesses, more and more employees are working remotely. This can be a challenge for managers, who need to find ways to keep employees connected and productive. There are a number of tools that can help with online collaboration, from video conferencing to project management software. The key is to find the right tool for your team and your project.
Video conferencing is a great way to stay in touch with remote employees. It can be used for team meetings, one-on-one check-ins, or even informal chats. There are a number of different video conferencing platforms available, so it's important to find one that works well for your team. Project management software can be a great way to keep track of deadlines and tasks. It can also be used to share files and collaborate on projects. There are a number of different project management platforms available, so it's important to find one that works well for your team. When it comes to online collaboration, the key is to find the right tools for your team. With the right tools in place, you can keep your team connected and productive, no matter what.
Here is a list of benefits of online collaboration in the new-age work environment.
Facilitates Remote Collaboration
This is one of the most crucial benefits of online collaboration. With digital workplace tools like Teams.cc, your team members can work with each other from anywhere in the world, provided there is internet connectivity. This is especially crucial for remote teams and large companies with branches in multiple locations around the world.
Conserves Physical Space
With online collaboration tools, you no longer need to cram people into a tight, inconvenient space. Instead, you can gather everyone into a video call, and everyone can share their ideas from a convenient location in real time.
Improved Project Management
Online collaboration tools facilitate the project management process for team leads. As a team manager, you can create projects, assign tasks, set deadlines, and track progress in one place. It's also easier to comment on finished work and give suggestions to workers in real-time so that they produce consistently high-quality work.
Boosts Team Productivity
With online collaboration tools, your team can streamline processes through well-defined workflows that ensure all team members are always on track. And with real-time updates and notifications reaching all involved team members, everyone is always aware of what they need to do. Also, managers can see how projects are progressing, allowing them to see where improvements need to be made.
Conclusion
Online collaboration is the future of business, as it harnesses the best technologies of the digital age to facilitate processes. With companies becoming more competitive, it's even more important to take advantage of digital technology to gain an edge.
Employing a team collaboration platform is a great way to take advantage of the growing digital workplace. Teams.cc by 500apps is a fantastic team communication app for streamlining team collaboration, no matter the size of your business. With Teams.cc, teams can collaborate asynchronously, share files and documents, and work on projects seamlessly. Try Teams.cc today, and start the journey to long-term competitiveness in your industry!
#1
Create unlimited number of public and private channels for an effective team collaboration
#2
Communicate across teams using instant text chat, voice recording, & HD video calling
#3
Share files from local drives and cloud storages with teammates securely
#4
Increase team productivity with mobile access, anytime and anywhere
#5
Find documents, links, specific messages, and more with integrated search
#6
Connect 200+ popular apps to collaborate effortlessly
#7
Personalize messages with reactions, mentions, bulletin points and more
#8
Prioritize information by pinning messages
#9
Unbelievable pricing - the lowest you will ever find
#10
Everything your business needs - 50 apps, 24/5 support and 99.95% uptime
Join the SaaS Revolution
All-in-One Suite of 50 apps

Unbelievable pricing - $14.99/user

24/5 Chat, Phone and Email Support