Best 5 Team Chat Software from Top 25
This article will explore the significance of team chat software as well as the top five team chat software out of a total of 25 that are available for use in businesses in order to improve communication and collaboration.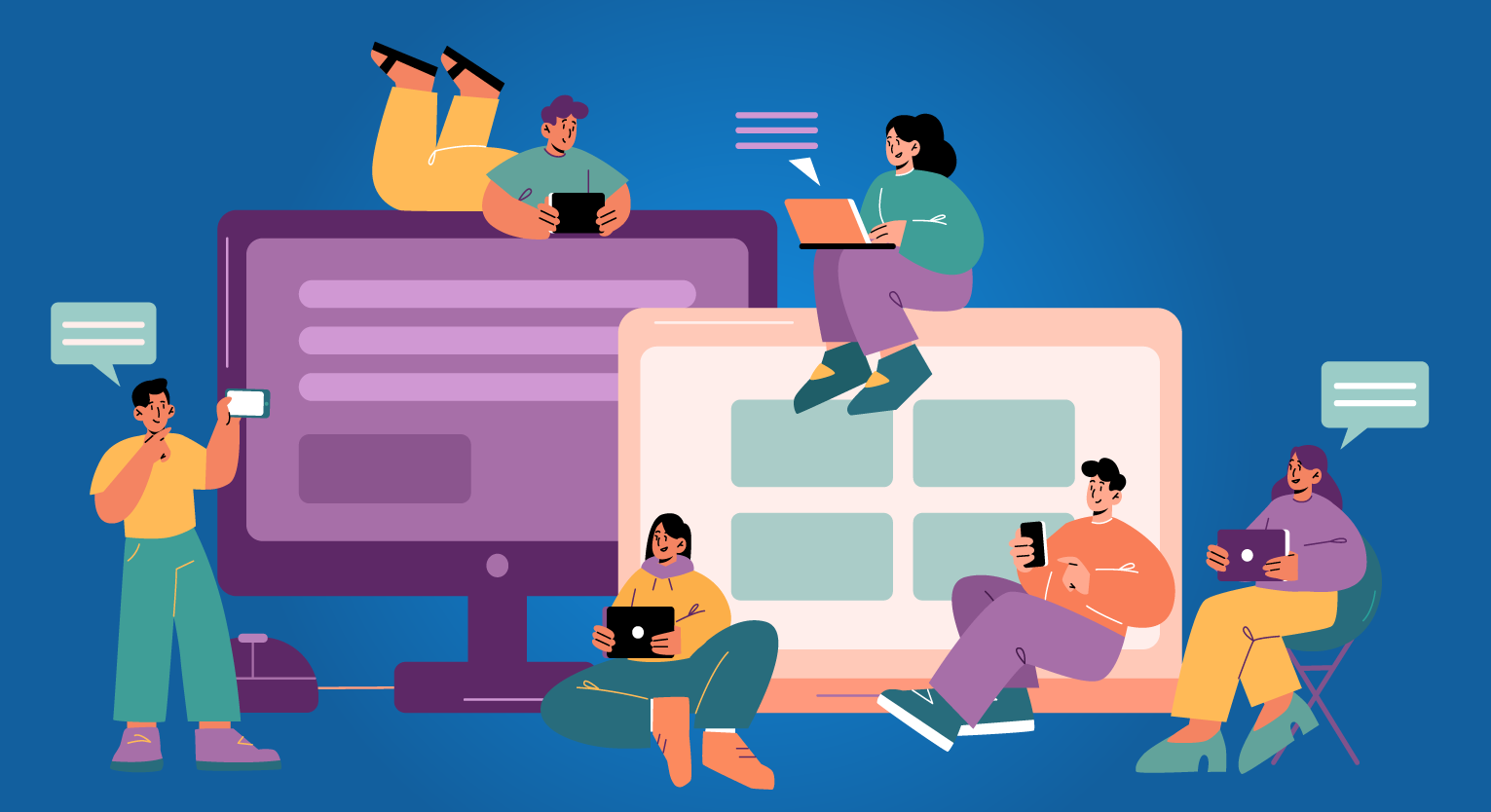 In the 21st-century business world, modern-age chat applications have improved workplace and personal communications. More than just tools, team chat software is a modern office that allows everyone to participate in workplace conversation. Unlike SMS, the right team chat software has helped with effective collaboration and has streamlined communication processes.
But, the thing with technology is that there are a lot of them around us. Almost all team chat software in the market has impressive features like integration with third-party apps, mix chats, file sharing, audio and video calls, etc. As a result, it can be cumbersome to know which one is best for your business.
This article will discuss the importance of team chat software and the best 5 team chat software from the top 25 for business communication and collaboration.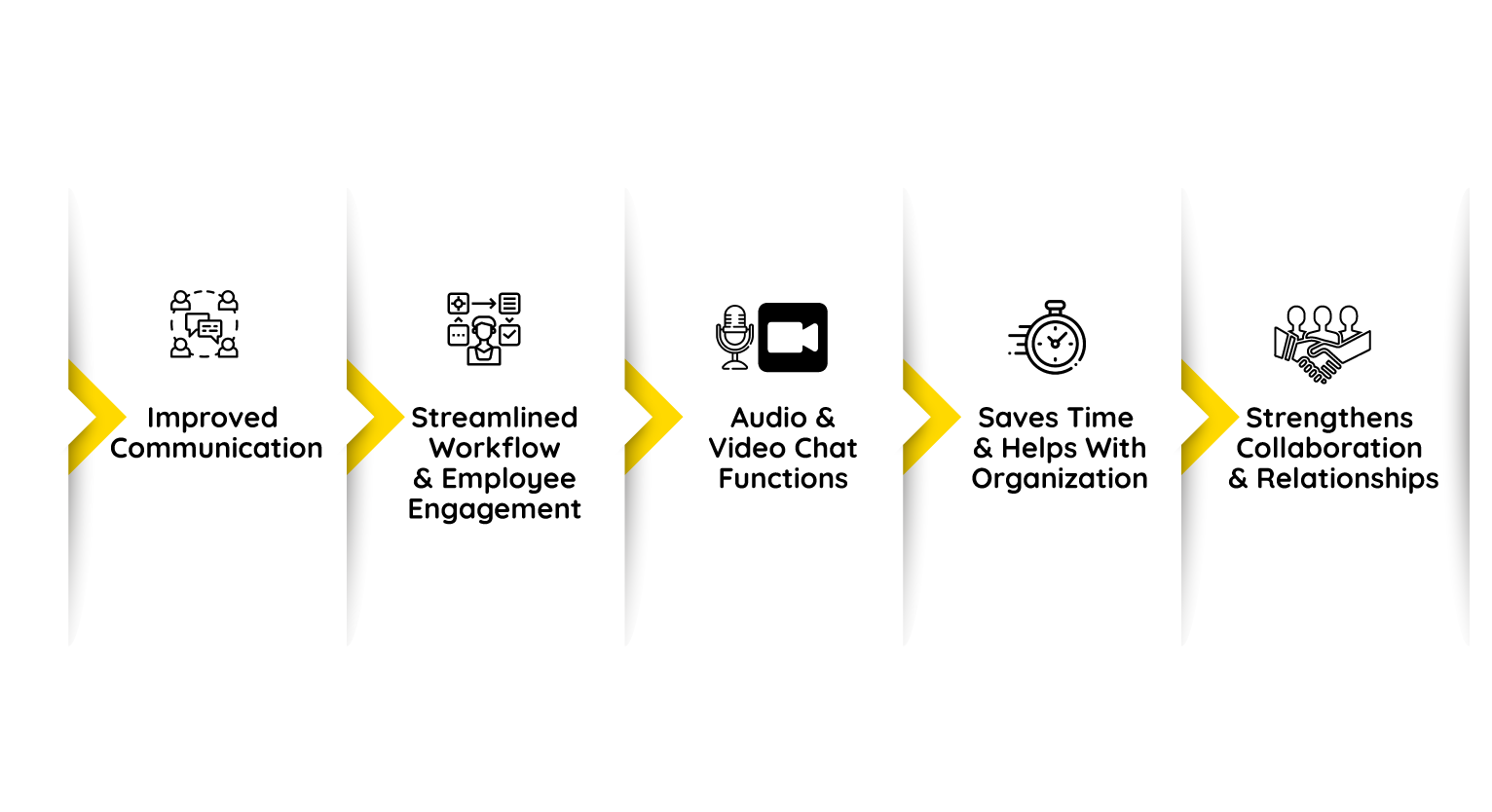 Importance of Team Chat Software
Improved Communication
Team chat software allows seamless communication between team members. You can share ideas, videos, and documents from anywhere. You can organize your conversations into levels. Some messages need to be seen by the entire company, while others require only part of the team.
With chat software, team members can decide which conversations are relevant to them and which are not. They can also use threads for conversations and tag individuals they wish to pull into specific conversations.
Streamlined Workflow and Employee Engagement
Team members can hold virtual meetings and share tasks, plan engagements, and get instant feedback from remote locations. Team chat software also improves employee engagement since the entire process is simplified. When you think about it, chat software increases accountability among employees.
Effective internal communication simplifies reporting and makes people accountable for their actions. It also promotes coordination and reduces the chances of mistakes and confusion.
Audio and Video Chat Functions
Team chat software allows video and audio communications, and users can share their screens for collaboration. Members can navigate conversations easily as the interface is clear and simple. There are also shortcuts and gestures that you can use to move between channels within the messaging app.
Saves Time and Helps with Organization
Team members must prioritize their time, especially when collaborating with others. However, they do so while sticking to deadlines. A team chat app reduces the time you need to ask someone to do something physically. It also reduces resources, unwanted expenses, and efforts.
Strengthens Collaboration and Relationships
Employees that work together will develop healthy working relationships among themselves. You can use the chat to talk directly with a team member, share files, preview links, and increase the speed of accomplishing tasks.
We have reviewed 25 top team chat software, and these 5 are the best of them all.
5 Best Team Chat Software
Teams.cc
The Team collaboration software is a single platform integrated with more than 200 apps. It allows channel management, file transfers, text chats, and file sharing. As a result, it is a workplace collaboration platform with fully-featured solutions that helps you connect with team members using real-time chat from any device and location.
Features
1. Channel management: Unlimited public and private channels with unlimited members
2. Third-party Integrations: With the right team chat software, you can connect your Google Drive account, Google Calendar, and Google meet with Teams.cc.
3. Video and Voice Call: Interaction with a screen-sharing option.
4. Mobile Access: From anywhere thanks to an easy-to-use mobile access application. It also allows real-time notifications to avoid delayed communications.
Fees
Teams.cc's team chat software has free and paid version plans. The only difference is that the free version is available for 10 users. The paid version costs $14.99 per month and allow access to more than 37 apps. The platform has more than 30,000 active users, 99.5% global uptime, and 6 data centers.
Slack
Slack is another easy-to-use platform for organizing communications. Since its launch in 2013, the platform has defined the office chat space with its user-friendly design and 2,400 plus integrations.
Features
1. Public and Private Channels: You can use slack to create channels for every topic, team, or project. This way, you will focus on the conversations that matter the most. There is a slack-connect feature along with this team chat software, that allows you to work with different organizations in a channel to improve the speed of communication between clients and agencies.
2. Messaging: slack allows open and organized space for messages, tools, files, and people. Users can organize conversations the way they want, and the software allows you to reference your private messages or open conversations in channels across the company.
3. Customized Integration: you can turn your routine processes into an automated workflow or use slack APIs to build custom apps yourself. In other words, you can create your solutions with or without a code.
4. Search and Share: users can filter by channel, date, user, etc. You can also share files by clicking and dragging them onto the screen, and you can add emoji reactions to messages to make them more interactive.
Fees and Pricing
Free: $0 monthly, Pro: $6.67 monthly,
Business: $12.50 monthly
Flock
Flock channels help to streamline decision-making processes so that you can organize conversations and manage your work conveniently. You can avoid chaos and clutter by creating different channels for discussion and connecting with team members with built-in voice and video calling systems.
Features
1. Voice Conferencing and Channel Messaging: Flock has video and audio-conferencing team chat software that allows communication with a remote team directly from within a chat or channel. You can record memos and reminders and share feedback directly in your own words. Users can also share their screens so everyone can stay on the same page. All you need to do is create a public or private channel and start the chat.
2. Easy File Sharing: Users can use a simple drag-and-drop feature for sharing files of all types. You can also preview files before sharing, and you can use the search feature to locate information quickly.
3. Integrated Mailing List: flock generates an automatic mailing list that you can use to email the entire channel at once. You can also bookmark important messages.
4. Reminders: With this smart team chat software, choose simple deadlines and set a reminder, so you don't forget. You can also rearrange your task with a to-do list in order of priority and create customized polls for all the team members.
Fees
Free: Available to only 20 members, Pro: $4.50 per user monthly
Chanty
Do more work together as a team with chanty. Chanty is a team collaboration tool that lets you create and manage tasks easily. The platform has a simple and intuitive interface and allows seamless onboarding across platforms and devices.
Features
1. Enterprise-grade Data Protection: All data shared on Chanty' team chat software is safely transferred, stored, and secure from compliance export. It uses HTTPS with TLS (SSL) for all services, and no one has direct access to your messages or database.
2. Task Manager: Team book is a single hub that organizes your tasks, pinned messages, conversations, and other content you share. It also allows quick access to your entire message history so you can locate people from your team with ease.
3. Chanty Extras: you can share multiple contents in a single app, highlight members with mentions, and pin important conversations. Users can also save time using code snippets with dev-friendly formatting.
4. Calls and Messages: Chanty allows users to leave a voice message or place a call to any team member. Users can also start a thread for context-based discussions so members can join an endless conversation timeline.
Fees
Free plan: Up to 10 members, Business Plan: $3 per user every month
ProofHub
Proofhub is an all-in-one project planning software with built-in team chat software for team collaboration. It puts all the tools your team needs in one place and allows ultimate control over a project. The platform is easy to use and increases team accountability and on-time project delivery.
Features
1. Table View: Users can plan and organize their projects, assign tasks, filter and view data, and keep essential details in one place. Instead of spreading information all over the place, you can arrange your work the way you like.
2. Kanban Boards: ProofHub lets you divide tasks into workflow stages of your choice and empowers a team to understand workflows as they are notified of tasks in different stages. You can assign tasks, create subtasks, add labels, set dates, estimates, and track time. You can also attach files, proof files, and control access and security.
3. Gantt Charts: use the Gantt charts to plan and visualize how pieces of your projects fit in a timeline view. Users can use this feature to assign tasks, set task dependencies, assign milestones, and track progress.
4. File Storage: The file management software improves collaboration by keeping the files organized. You can upload, store, and organize your files in one place. Not only this, but you can store multiple versions of the same file, access version history, compare versions and restore if needed.
Fees and Pricing
$45 flat pricing for 1-5 users
Conclusion
These apps offer fundamental features like storage, video and audio conferencing, file sharing, extensive third-party integration, etc. However, we found teams.cc to be the best team chat software on the market. The platform is affordable, easy to use, and offers features that will improve your communication as an organization.
#1
Create unlimited number of public and private channels for an effective team collaboration
#2
Communicate across teams using instant text chat, voice recording, & HD video calling
#3
Share files from local drives and cloud storages with teammates securely
#4
Increase team productivity with mobile access, anytime and anywhere
#5
Find documents, links, specific messages, and more with integrated search
#6
Connect 200+ popular apps to collaborate effortlessly
#7
Personalize messages with reactions, mentions, bulletin points and more
#8
Prioritize information by pinning messages
#9
Unbelievable pricing - the lowest you will ever find
#10
Everything your business needs - 50 apps, 24/5 support and 99.95% uptime
Join the SaaS Revolution
All-in-One Suite of 50 apps

Unbelievable pricing - $14.99/user

24/5 Chat, Phone and Email Support