Which Team Chat Software Is Best for Your Business?
Team chat software is a platform allows you and your team to communicate efficiently. It's a place for your company to communicate. These chat applications are designed with a user interface that includes a variety of communication and collaboration features.
Many office chat tools are sweeping the workforce today, and the list doesn't seem to end. However, the issue is finding out which of these chat apps is best for you. Hence, the reason for this research piece.
Team chat software is a platform where communication can occur between you and your team. It is a space where your business can communicate. These chat apps are programmed with an interface with various communication and collaboration features. These include file sharing features and the ability to conduct video and audio conferencing.
Therefore, this article is for you if you are searching for a team chat software that enables you to carry out communications and other business functions efficiently.
Why is Team Chat Software Important for Businesses?
Having team chat software is one of the essential features of a modern office. The chat app is multifunctional in design, and having it allows you to carry out many functions, especially via synchronous and asynchronous communication.
The above feature will help your team communicate more effectively and work better by extension. Many workplace challenges can be solved by knowing how to contact your colleagues and streamline your communication.
Furthermore, having all of your correspondence in one space makes it increasingly challenging for valuable ideas and crucial discussions to go lost.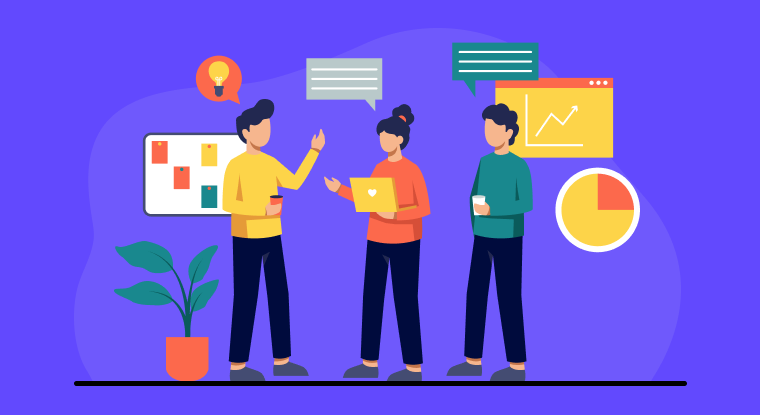 Therefore, the following are the best team chat software available for you and your business:
Teams.cc
Teams.cc is a team collaboration platform with effective channel management that effortlessly blends file transfer with text chat. It is a screen, video, and audio sharing platform. With its efficient project management system, your business will be able to monitor, measure, and achieve its goals faster. Its convenient user-friendly interface makes it the best choice for businesses of all sizes and its secure storage allows users to share a multitude of files effortlessly.
Slack
Slack is a chat software launched in 2013. This team chat software has a simple interface that makes it easy for users to understand. It has a General channel for the whole organization, but most daily communication takes place in channels dedicated to a single team or project. So, that means users can choose the channels they want to be a part of, avoiding being bombarded with notifications about unrelated initiatives.
Flock
Flock is also a chat software for teams and small businesses. It features direct messaging, various channels based on different teams, and personal space. It has an effective method for business communication, being an adaptable team communication software.
Microsoft Teams
According to a 2019 report gathered by Reuters staff, Microsoft Teams has grown to become a household chat app with more than 20 million users. Microsoft Teams combines pre-existing Microsoft resources such as OneDrive and Skype into a single database and communication center. Thus, users can interact with one another via text chat or video conferencing.
Google Chat
The google chat software divided conversations into rooms, just like the Slack channels. Interactions are pushed into themes, making it easier to keep track of what's going on. Users can quickly join and leave rooms, and your firm can add as many as they wish. What makes the software stand out is integrating with Google's network of apps. When you paste a Google Doc link into a document, the permissions are automatically changed to allow everyone in the room to open it.
Troop Messenger
Troop Messenger improves team cooperation by allowing them to communicate with the rest of the company via one-on-one messaging, group discussions, voice-video calling, audio messaging, etc. Troop Messenger communicates each team member's voice to everyone across the organization.
Mattermost
Some discussions are too crucial to be held on a third-party site, and this is where you need a team chats software like Mattermost. It is a freely available chat application, which means you can download and install it on your computers with no hassle. Also, the team chats software is among the most feature-rich self-hosted chat apps, and it is accessible on Android, iOS, Windows, Linux, Web, and Mac.
Conclusion
Team chat software is essential to facilitating team communications and efficient work collaboration. There is a plethora of team chat software available for your teams and your business. Thus, you can use any of the listed team software above for your team and business.You can also sign up at teams.cc if you desire efficient Team Collaboration Software. The software has many features that include effective project management via efficient channel management.
#1
Create unlimited number of public and private channels for an effective team collaboration
#2
Communicate across teams using instant text chat, voice recording, & HD video calling
#3
Share files from local drives and cloud storages with teammates securely
#4
Increase team productivity with mobile access, anytime and anywhere
#5
Find documents, links, specific messages, and more with integrated search
#6
Connect 200+ popular apps to collaborate effortlessly
#7
Personalize messages with reactions, mentions, bulletin points and more
#8
Prioritize information by pinning messages
#9
Unbelievable pricing - the lowest you will ever find
#10
Everything your business needs - 50 apps, 24/5 support and 99.95% uptime