15 Best Communication Apps for Small Businesses
Here are the 15 best communication apps for small businesses. Communication is key to any business, but managing it can be challenging.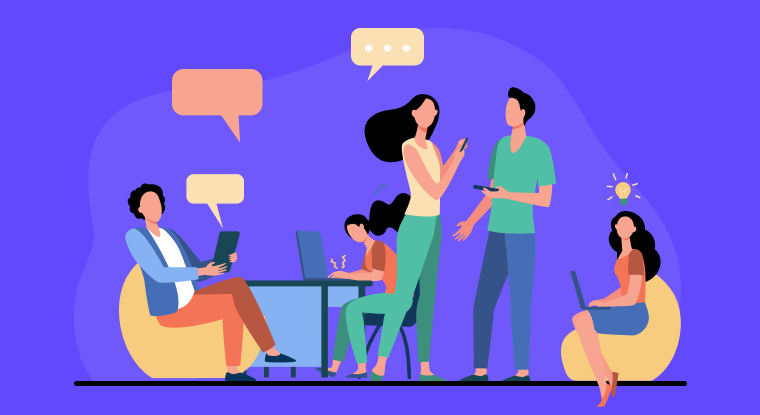 Today's business teams likely need more communication skills than any other talent. And this is particularly true now that so many of us work from home. Happy employees and increased productivity are directly correlated with effective workplace communication, which is where communication apps come into play. Team chat and other communication tools let you stay in touch with your coworkers while also boosting productivity.
A decent communication software enables us to do more tasks with less effort rather than exchanging emails incessantly about meeting requests, project updates, and other things.
However, picking the ideal team communication software for your team or company might be difficult. There is a tonne of tools available, so choosing one will take your team's time and resources seriously. Therefore, if you can choose wisely right away, you'll be saving yourself a tonne of time afterward. So, with a summary of the top 15 options available, we've put together this guide to assist you in choosing the finest team communication app for your organization. To give you a decent mix, we choose both well-known tools and emerging platforms. If you want to skip ahead to the breakdowns below, take a look at some advice for picking the best app.
What Are the Best Communication Apps? 15 Options to Consider
After pointing out what to look for, let's examine the apps in more detail. All of the apps listed below are either free, have a freemium plan, or have demonstrations so you may try them out.
Teams.cc
Teams.cc is a business collaboration software product from 500apps. The software is made to make team member communication easier. It should come as no surprise that it is the top pick for businesses given its capabilities, which include unlimited team messaging, secure file sharing, channel management, video and audio chatting, and other potent productivity tools. Teams offer a scalable solution to file storage and discussion documentation as a cloud-based solution. The strong third-party integration of this team chat software enables a seamless workflow with other productivity tools.
Teams is arguably the most affordable product on the market despite having top features. The software, which is intended as a small-business solution, provides better value than it costs. You can use all the features that Teams has to offer for $14.99 per month. You can also test us out prior to starting a subscription plan by accessing our demo.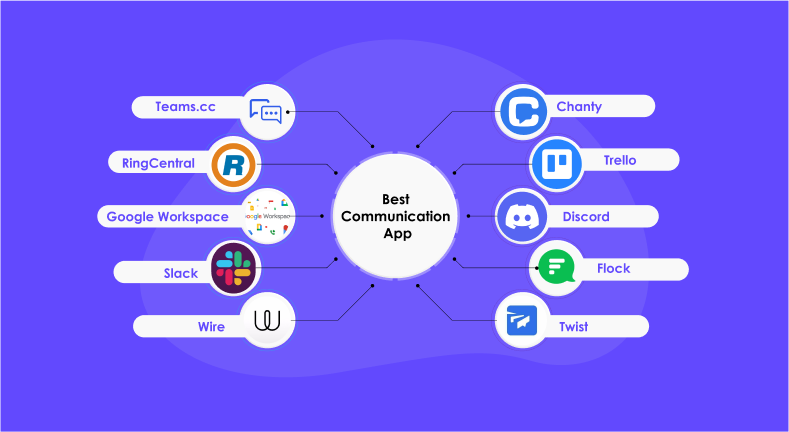 RingCentral
RingCentral is an all-in-one team solution with all the capabilities required to keep your team productive. The platform offers built-in voice and video calling in addition to traditional team chat. You can accomplish all of the aforementioned—and more—in the app, whether it's a brief virtual check-in or a full-blown conference call.
Contrary to other team communication platforms, which demand third-party integrations in order to use audio or video, both are pre-integrated into our system. Another interesting feature is the fact that you can create and assign tasks straight in the app.
Google Workspace
It's likely that at least some of your team members are already comfortable using Google's toolkit. Intuitive tools are Google's bread and butter, from the free applications that come with Google Workspace (such as Docs and Sheets) to the recently unveiled Google Workspace. Although the platform might not have the best-unified communication app, Google's tools are advantageous because they are easy to use and integrate well.
Take into account, for instance:
Managing emails, messages, and notifications using Gmail Congregate for video calls and voice calls, Documenting collaboration with Docs and Sheets, Drive for transferring files, and Calendar for managing schedules. It does take some switching back and forth between platforms to use Google's tools, but they all function fairly well. Joining Google Workspace makes sense if your team is already familiar with the aforementioned technologies and you already run your entire business through Gmail.
If nothing else, you can test the waters by utilizing a free à la carte combo of Google's communication tools.
Slack
Slack's user count and popularity have significantly increased recently, particularly with the startup scene. Slack's main features include private channels, file sharing, and a plethora of integrations, which range from productivity bots to your helpdesk software and beyond. Slack was specifically designed to replace email.
When it comes to team chat, Slack may be one of the most popular names, but its in-built features and functions are quite in line with the cost. Additionally, you may require other technologies in addition to Slack to manage other communication channels you use, like phone calls and video conferencing. (Remember how we discussed the adaptability of tools earlier?)
Slack is a strong tool, but it's by no means the only option when it comes to business chat programs. However, it's a good choice if you're searching for a simplified team messenger with a low learning curve.
Wire
Naturally, workplace chat needs to be safe, especially if you're talking about confidential customer information. Security was a priority when creating tools like Wire. The platform is open-source and has end-to-end encryption, which we also mentioned in our list of the safest messaging applications. For sporadic meetings with clients or customers who are not part of your company, extra features like "self-destructing rooms" are useful. Similarly, if you don't want shared discussions and files to remain in your chat system, you may make sure they don't.
Other than that, Wire's features, like its text and video chat, are rather typical. However, have a look at it if 007-level security is one of your top objectives.
Chanty
Chanty can meet your needs if you're looking for an easier-to-use, less expensive Slack substitute that doesn't sacrifice much in the way of functionality. Because, hey, group chat applications don't have to be incredibly expensive or feature-light.
Chanty includes a project management board (comparable to Trello) in addition to standard chat, voice messaging, and video to let you keep track of the status of tasks and projects. In addition, you can use comments instead of email to respond to specific messages and tasks.
Trello
One of the most well-liked communication and project management apps on the internet is Trello. You can assign, track, and communicate with peers about tasks all in one spot using Trello's Kanban board. You are provided a unified image of every particular project as a result, which facilitates collaboration and clarifies who is responsible for what. But let's be clear: Trello is not a chat application. The focus of Trello is task management. Without switching to your inbox, you can access Trello boards, notifications, and updates in RingCentral.
Improve Team Communication to Boost Your Business Productivity Today! Sign Up 14 Day Trial Trello is a good alternative if you're more interested in cooperation but don't need your coworkers to be active in a team chat every day. Additionally, Trello's forever-free plan is a welcome feature.
Discord
Not all group chat applications emphasize texting. In reality, HD screen sharing and always-on audio chat make programs like Discord stand out. Despite being designed primarily for gamers and live streams, businesses are increasingly utilizing the platform as a substitute for Slack. The quality of its video and speech is surprisingly outstanding for a completely free tool, and the software supports invite-only channels and user permissions like most chat programs. Discord isn't the most secure app, but that's because it's not actually designed for business. Traditional business integrations are also lacking.
Nevertheless, it's a useful tool for cool teams that isn't too formal. Give Discord a try if you're the type of person who communicates mostly through gifs and emojis.
Flock
A team chat tool with a focus on organizing and collaboration is called Flock. For instance, the platform has tools like team polling and built-in to-do lists. You may actually provide your teammates with a much-needed sense of accountability by assigning due dates and deadlines for projects. Organizing your in-app interactions is also made incredibly simple by quick search and "pinned" stuff.
Twist
Twist bills itself as a messaging app without interruptions. The platform's simplicity is its strength for teams wishing to concentrate on their job without having their communication app get in the way. Twist doesn't appear all that different from some of the chat applications mentioned above at first sight. The twist is somewhat of a stress-free platform, too, thanks to features like notification restrictions and the ability to push conversation threads off for later. The program also features in-depth message history search to make discovering old communications simple.
Additionally, the app is helpful to teams operating on a tight budget because it offers a forever-free option.
Troop Messenger
The ability to temporarily add clients and vendors to conversations and remove them once you're done is one of Troop Messenger's most intriguing features. Instead of lengthy email threads, it enables group chats with them. This implies that you can use it for all types of communication, not just internal ones. It's simple to manage how you have chats thanks to a variety of intriguing features including "reply later" tags, "burnout" (an unstored, private chat), and audio messages. The trial's brief seven-day duration is by far its biggest drawback. After that, fees per user per month range from $5 to $25.
Troop Messenger also offers the self-hosting choice, which enables you to keep everything on your own servers. Teams that handle sensitive and secret information will find this option to be extremely useful.
Rocket.Chat
Since Rocket. Chat is an open-source program, it is always changing. Every user has access to the source code, so you can change it and include or exclude features as you see fit. Live chat and real-time translation are only two of the services that have been made possible via customization. Since it supports more than 50 languages, the translation tool is very helpful for international teams. There are numerous plugins and integrations for it, and if you're unsure about doing it yourself, there is a marketplace. High-security standards are a point of pride for Rocket. Chat, may be used in two different ways: as SaaS (software as a service) or self-managed.
Prices for the SaaS solution, which offers cloud hosting, start at $2 per user per month. The cost of the self-managed solution ranges from $30 per user per year to zero. Just keep in mind that if you select self-managed, you will require your own servers.
Convo
Convo provides all the fundamental capabilities you'd anticipate from a team communication tool, including file sharing and video calling. It offers a newsfeed in addition to the capability for private and group chats. According to your team, this newsfeed might be both a pro and a drawback. It's a terrific method to stay current on business matters, comment on pertinent posts, and stay on top of the most recent developments. But it can also serve as a slight diversion. If not properly controlled, it can easily become overwhelming.
Convo has the potential to be a real game changer for your business if you have a great remote management team. The poll tool enables speedy opinion gathering, and the staff performance monitoring component enables quick identification of problem areas. Just be mindful of how similar it is to a social media site and take care not to treat it that way.
ProofHub
The other apps on this list, aside from ProofHub, all promote themselves as "team communication apps." It refers to itself as "all-in-one project planning software" instead. (This implies that those of you who are content with your current project management solutions may be better off exploring elsewhere.) However, it's a terrific option for teams who want everything in one location. You may assign tasks, break them up into process stages, and use Gantt charts to visualize your projects in addition to the usual conversational tools. There is also a specific calendar with automated reminders. For teams who don't want to transition between systems, it may not have as many distinctive features as some of the competitors on this list, but it does offer a superb blend of productivity and collaboration tools.
It may not be ideal for smaller businesses due to the pricing. Instead of a per-user price, it's a fixed rate starting from $45 a month. Smaller teams of two or three people might be able to discover less expensive choices, but medium-sized enterprises will consider it a great deal.
Ryver
Ryver is referred to as a team collaboration software, which means that it has capabilities for project planning as well as communication functions. While essential additions, task management features like checklists, tags, and assignments are not as complete as a dedicated project management platform may be. It has a wide variety of integrations and may be used with your current log-in options, enabling SSO (single sign-on). Because of the focus on efficiency, it is easy to use and offers customizable channels. This includes internal discussion boards, group messaging, and private interactions.
In addition, you may separate chats by task or topic, which is useful for keeping focused, general conversations separate. Importantly, even the lowest tier package provides unrestricted file sharing and chat, so you won't run into any restrictions in the middle of a conference.
Conclusion
It goes without saying that you have a lot of options when it comes to business software. The needs and budgetary concerns of your company will ultimately determine which team communication tool is best for small businesses.
Having said that, we have witnessed Teams.cc alter groups of all sizes. We've got you covered on the path to improved teamwork, whether you require a straightforward chat platform to check in with your coworkers or a more capable virtual conference solution.
#1
Create unlimited number of public and private channels for an effective team collaboration
#2
Communicate across teams using instant text chat, voice recording, & HD video calling
#3
Share files from local drives and cloud storages with teammates securely
#4
Increase team productivity with mobile access, anytime and anywhere
#5
Find documents, links, specific messages, and more with integrated search
#6
Connect 200+ popular apps to collaborate effortlessly
#7
Personalize messages with reactions, mentions, bulletin points and more
#8
Prioritize information by pinning messages
#9
Unbelievable pricing - the lowest you will ever find
#10
Everything your business needs - 50 apps, 24/5 support and 99.95% uptime
Join the SaaS Revolution
All-in-One Suite of 50 apps

Unbelievable pricing - $14.99/user

24/5 Chat, Phone and Email Support