What is Team Chat Software?
Teams.cc is team chat software that allows users to send instant messages and also has advanced features such as voice and video calls, real-time notifications, and many more.
Email communication provides a great way of interacting with your teams in the company. However, when teams want to collaborate more efficiently, you might require advanced tools. Getting the right communication software ensures your team interacts faster and in real-time. This is where team chat software comes in handy. This critique defines for you what a team chat software is and why you should have one for your business.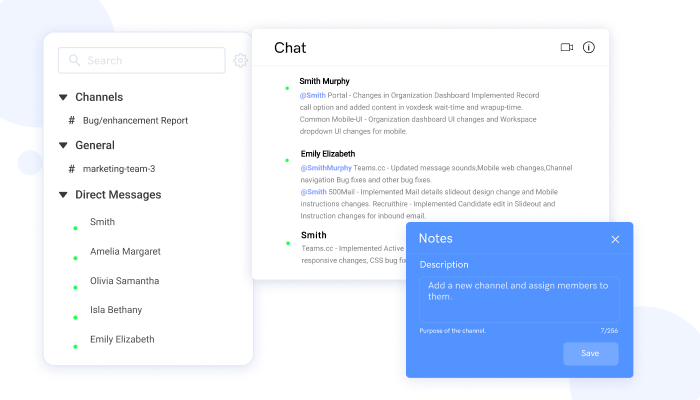 More About Team Chat Software
Before singling out the best team chat software online, let's define for you what this tool is all about.
Team Chat Software Defined
Team chat software refers to a communication tool that allows you to interact actively with your colleagues in a secure environment. While you may assume that this is just any other business communication tool, team chat software does more than just communication. Apart from efficiently collaborating with your teams using team chat software, the tool also helps you perform other crucial tasks like hosting video meetings and connecting with people from different countries.
How Does Team Chat Software Work?
A team chat tool brings all your teams' communication into a single platform. This paves the way for increased collaboration and tons of other benefits, as explained below.
Benefits of Team Chat Software
Streamlined communication
The right team chat application eliminates communicating through traditional communication apps like email or telephone calls. Instead, team chat software allows your team to interact in one single dashboard. This provides an easier way of keeping up with the conversation even when some of your teammates are unavailable.
Save time
Communicating using emails might be preferred in certain instances. However, it should be noted that this form of communication may not be as effective and efficient. For example, emails can easily be ignored, or that you might not get the response you want right away. Conversely, team chats solutions provide immediate feedback from your teams. This saves time, and it increases productivity.
Easy access to information
Since communication is done in a single place, it's easy to retrieve information at any time. For example, documents or any other files shared through team chat can be retrieved by any member of your team with access to the software.
Improves employee engagement
Conversations in the team chat app can be organized based on different topics. This means that the app doesn't have to be used for only business purposes. Instead, your employees can use this tool to discuss freely relevant issues that will help them grow professionally and in their personal lives.
Sharing and storing of files
An ideal team chat solution will also allow you to share and store digital files on the cloud conveniently. The best part is that your data is stored safely, thanks to the security features offered by your vendor. This is an important thing you need to confirm before choosing any application.
Best Team Chat Software Online, So, which is the best team chat application that small and large businesses can turn to?
Introducing Teams.cc
Teams.cc is one of the best platforms that will transform how you communicate in your company. This software lets your team collaborate efficiently with unlimited messaging, channel management, secure file-sharing, in-app video calling, and dozens of other powerful productivity tools. Teams.cc can also be integrated with other apps for increased functionality. For example, you can connect this tool to email, calendar, CRM, and helpdesk applications. Better yet, the software is quite affordable since you can sign up for the solution for just $14.99.
Features To Lookout For
You may think of comparing other options of team chat applications. If this is the case, you need to consider looking for the following features:
Conclusion
It's time to transform how your teams interact using team chat software. For better collaboration, engagement, and increased productivity, you should consider finding the best tool that meets your business needs. We've already recommended that you use Teams.cc. This is an affordable tool that serves the purpose. Besides, you can take advantage of the handy communication features it offers.