How To Support Remote New Hires Using Team Chat Software
Online collaboration is becoming more important than ever before due to the COVID-19 pandemic. As a result, your company needs to use a team chat solution to keep in touch with your employees, work together, and communicate better.
If you are thinking of supporting your new hires, you've come to the right place. This article will provide you with all the information you need about supporting your new recruits using reliable software. But, before we proceed, let's first look at the reasons why you need team chat software installed in your system.
Why Your Company Needs a Team Chat Software
Modern working environments are rapidly changing. Remote working is slowly replacing the conventional jobs people were accustomed to. In addition, online collaboration is becoming more important than ever before due to the COVID-19 pandemic. As a result, your company needs to use a team chat solution to keep in touch with your employees, work together, and communicate better. This is what you need to increase productivity in your organization. Here's a look at the reasons why team chat software will benefit your company.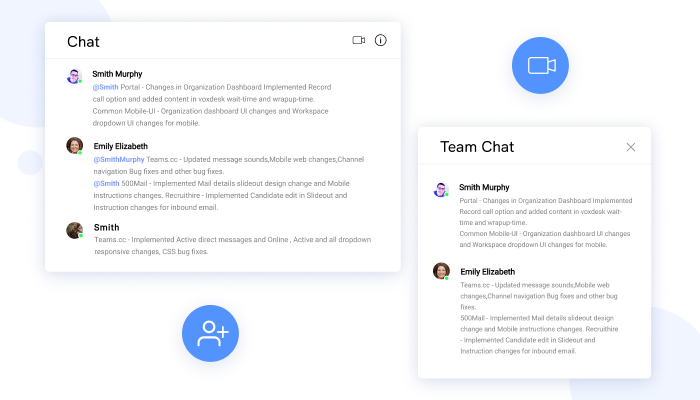 A Handy Chat Platform
Have you ever thought of sharing an idea with your colleague or just a random message you wished to pass across real fast? Well, you might think of engaging with your staff using WhatsApp or any other digital communication tool. However, for business purposes, this might not be appropriate.
Luckily, you can quickly initiate conversations with your teams with a powerful and convenient tool like Teams.cc. As a result, you can communicate with as many people as you want without feeling limited. The beauty of using this tool to interact with your colleagues is that you can personalize your messages in ways that help to build stronger working relationships.
Enriched Communication With Real-Time Collaboration and File Sharing
Chat platforms also provide your business with an option of sharing files. This means that you don't have to use a different software when you want to send certain documents or images to your team. You can use Teams.cc to hold secure video calls with your employees in terms of collaboration. Generally, your conversations can become more dynamic, not to mention that increased conversation ensures that you get work done faster.
Conversation Channels and Threads for Maximum Convenience
The last thing you want with a team chat tool is having to go through thousands of unread conversations. It's frustrating, and it often leads to a waste of time. In some cases, you might even fail to read important messages because there is a lot to keep up with. Using a convenient chat software like Teams.cc helps eliminate this hassle because you can create team channels. You can use this feature to assign specific channels to different teams depending on your company's goals.
Maximum Accessibility
Teams.cc is also a great tool for seamless meetings. The convenience this tool offers you allows you to use it from anywhere. You can use it on your mobile device, computer, or any other device with an internet connection. The good news is that you can still make quality video calls even when using these handy devices while on the go.
Enough with the benefits, right? There is so much to gain when using a team chat tool in your business. Consider the following pointers to support new hires in your organization using team chat software.
Tips to Support New Hires Using Team Chat Software
Provide Ideal Admin Guidance
You need to confirm that all your hires have access to the software you will be using. If you are using Teams.cc, you need to ensure they have the software with the right package. You can use all the features of Teams.cc by paying for the premium package for just $14.99. While you might consider evaluating the software for free, you have 14 days to try it before signing up for the full package.
End-User Communications
Another important thing you need to do is to communicate with your teams about the software you intend to roll out. How will your new hires know that there is a communication tool if you don't inform them? Find a convenient way of announcing the new move either through email or any other form of communication that will reach all your recruits. You should also provide a countdown for joining the team chat tool. Your employees should understand that the earlier they use the chat tool, the better because they will be updated on what's going on.
Similarly, it would be best to remember to send the tips and tricks that will guarantee your teams find it easy to use the software of your choice. You don't want your employees wasting time trying to understand how to use the software. Luckily, your staff will find this tool very easy to use, thanks to its simple interface.
Share End-User Guidance
As previously mentioned, you must educate your employees about using the team chat software. Apart from sending them a welcoming message to the tool, remember to create a video that will guide them on using the software. One of the best screen capture tools that you can use here is NinjaCapture. This is another great product from 500Apps that doesn't disappoint, especially if you want to create high-quality videos to share with your teams.
Provide Internet Access
While it might seem like an obvious thing to do, providing your teams with reliable internet access to use the chat software shouldn't be overlooked. First, strive to ensure that your premises has a stable internet connection. It's normally frustrating to use a weak internet connection when using any chat software. It leads to poor communication because you might not get the feedback you want in less time. So, work with your IT experts to ensure that a reliable internet connection is provided. The idea here is to motivate your hires by proving to them that using the team chat software is the perfect way to enhance communication in your organization. Start with the basics without ignoring anything.
Encourage Team Introductions
For every hire you bring to your organization, it's always advisable to encourage other employees to welcome them. Use Teams.cc and create a common channel where hires are introduced to the rest of the team. You want to make your new hires feel comfortable working with your company. Introducing your hires allows them to share a little bit about their personal lives. This creates a platform for people to build more meaningful relationships. Your employees will feel valued, and this is a great way to make them feel like they are an essential part of the team.
Conclusion
It's good that you are thinking about supporting your new hires in the organization when using team chat software. Since you are striving for efficiency, it's crucial that you make it easy for your teams to understand how best to use the chat software installed in your systems. Train your hires on how to use the software. It doesn't take time, especially if you settle for easy-to-use software that delivers. We strongly recommend using Teams.cc because it's software that has been developed by 500Apps, a software developing team with a proven track record. Remember to use the handy tips discussed herein to support your recruits as they use chat software in your organization.