5 Features That Make Teams.cc the Top Team Communication App
Teams.cc is a robust team communication app for your company, whatever its genre. We take you on a tour of five of its amazing features that boost collaboration at the workplace.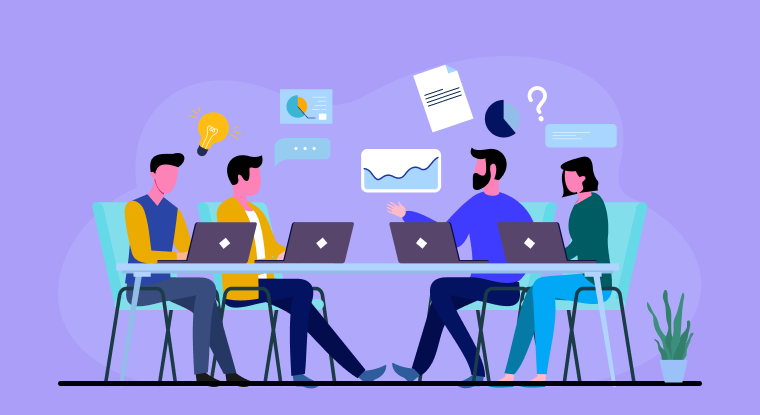 Whether it's a small or medium business looking to make its mark in a local market or a highly-focused team in a much larger enterprise, team communication is key to facilitating productivity at the workplace. According to CMSWire, 97% of employees believe that communication affects their efficacy on a daily basis. Additionally, McKinsey reports that well-connected teams experience up to a 25% jump in productivity at the workplace.
Team chat software is essential collaboration software, as it facilitates employee interaction in business processes. So, for your business to grow, you need a great team communication tool that suits your employees' needs, boosting everyone's productivity. In this article, we explore the five best features of Teams.cc, a fantastic team communication app that will set your team apart.
What is Teams.cc?
Teams.cc is a team communication software developed by the 500apps team to promote efficient collaboration between team members at the workplace. It is an all-in-one collaboration tool, allowing businesses to handle various means of communication from one centralized place. With instant messaging, video conferencing, and file sharing incorporated into this app, your team members no longer need to port from one app to another while working on a project. Our seamless system provides a consistent experience, whether your team members need to send an update via text or make a quick call to coworkers.
Teams.cc's team communication app offers tons of features to optimize workflow in your business, as it helps you take advantage of various communication methods seamlessly. With voice and video calling, you can discuss essential work issues with coworkers worldwide, provided they have internet connectivity. And if you have a document you'd like them to take a look at, you can quickly share your screen while on the go. Teams.cc also offers support for sharing work files, making file-sharing a breeze for your teammates. This adds more context and richness to work conversations and processes, boosting team communication.
Among our many features are channel management and channel messaging, allowing you to work with multiple teams. And even if you need to get through to a team member directly, Teams.cc has made it easier, with mentions and tagging functionality available.
With limitless messaging and 24/7 support, team members can access each other at any time and anywhere. This makes Teams.cc excellent for both remote and on-site teams. With Teams.cc, taking charge and boosting productivity at your team is second nature. And at only $14.99 a month, you're sure to get the value you paid for several times over!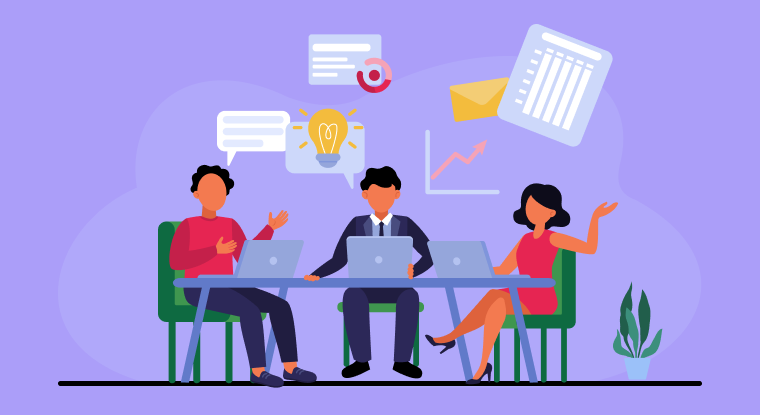 Top 5 Features in Team Communication App
A team communication app is a software application that helps team members communicate with each other. It can be used to send messages, share files, and keep track of tasks and events. A team communication app can be used by businesses, organizations, and families. It can be used to keep in touch with co-workers, collaborators, and loved ones. Here are a few of the top features in Teams.cc that make it a fantastic teamwork communication tool for your business.
1. Channel Management
With Teams.cc, handling multiple projects or multiple teams is as simple as a few clicks. Teams.cc allows you to create and manage multiple team communication channels where your team members can collaborate on specific projects. You can then share information with everyone on the channel. This way, everyone working on a project or team is always informed and updated about new developments and tasks they'd need to perform.
And on Teams.cc, there's no limit to the number of channels you can create. This makes it perfect for your business, whether it's a small one or a large enterprise with hundreds of projects! You can also add unlimited team members to each project, meaning that no matter the size of your project, Teams.cc has you covered.
And if you have sensitive information you'd like to keep discreet even while working on it, Teams.cc has got you. You can create private channels that only team members you add can see, adding an extra layer of security and confidentiality where it's needed during team communication. And for those projects that everyone has to be involved in, you can leave the channel public, so everyone remains updated at all times!
2. Third-party Integration
With Teams.cc, you don't have to move from one app to another to keep using your favorite productivity apps. With Google Drive integration, you can create and share documents, spreadsheets, and slides without leaving your team communication app. You can also create reminders and events on Google Calendar, ensuring that everyone is on track to meet deadlines and is reminded of their tasks. With Google Meet integration, you can also add members to a quick video conference where you can discuss important issues instantly.
3. Channel Messaging
You can send instant messages to your teams on a broad scale with channel messaging. Using a broadcast message on Teams.cc, you can send a message to your channels, and all team members will receive it instantly and simultaneously. With public channels, everyone has access to all the information they need. Team members can also communicate with coworkers and team leads with a full-featured team communication tool. This way, everyone is able to participate in the creative and implementation process.
4. File Sharing
With collaborative file sharing, you can enrich the team collaboration experience by quickly sending documents, photos, and videos illustrating useful information. With file sharing, there's no need to switch to email anytime you need to send documents, as one platform takes care of all your needs. File sharing is also secure and safe, allowing you to collaborate on private documents without fear of snooping, making team communication smooth and simplistic. You can also pin important files in your team chats, allowing coworkers to find essential documents easily.
5. Mobile Access
With Teams.cc, you can collaborate, share files, and communicate with team members from any connected smartphone. With our intuitive and user-friendly mobile app, you can stay up-to-date with team communications anytime. Real-time notifications on our mobile app also help you stay updated instantly so that you can move the conversation faster. Teams.cc also offers seamless synchronization. Depending on your preferences, you can switch from your computer to your mobile phone anytime.
Conclusion
Excellent team communication software is crucial for facilitating collaboration in the workplace. If you're looking to boost productivity in a seamless, fun way at your business, don't hesitate to choose Teams.cc from 500apps. Teams.cc also comes with premium access to more than 40 other apps in the 500apps suite, making it the perfect choice to boost your productivity across the board.
#1
Create unlimited number of public and private channels for an effective team collaboration
#2
Communicate across teams using instant text chat, voice recording, & HD video calling
#3
Share files from local drives and cloud storages with teammates securely
#4
Increase team productivity with mobile access, anytime and anywhere
#5
Find documents, links, specific messages, and more with integrated search
#6
Connect 200+ popular apps to collaborate effortlessly
#7
Personalize messages with reactions, mentions, bulletin points and more
#8
Prioritize information by pinning messages
#9
Unbelievable pricing - the lowest you will ever find
#10
Everything your business needs - 50 apps, 24/5 support and 99.95% uptime
Join the SaaS Revolution
All-in-One Suite of 50 apps

Unbelievable pricing - $14.99/user

24/5 Chat, Phone and Email Support