The Secrets to Successful Team Collaboration and Communication
Your operations may be online, but that doesn't mean you cannot maximize your team to generate excellent results. This article shows you how to harmonize your top talent via virtual collaboration, whether your business is fully or partly remote.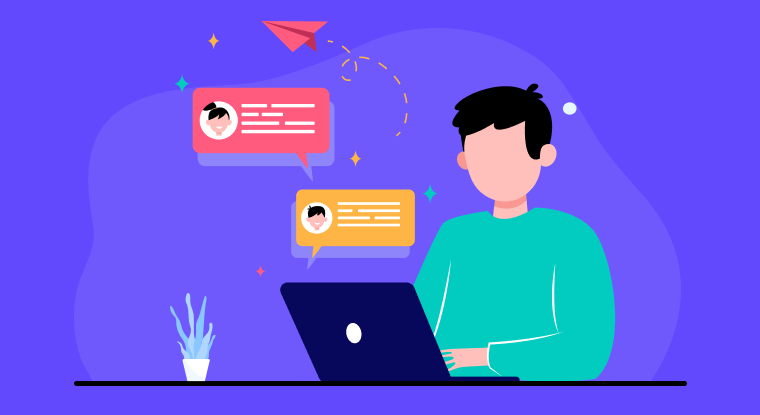 Successful collaboration is key to success in any endeavor, and this is especially true for businesses. With successful team collaboration, people can pool their ideas and come up with innovative solutions to problems, boosting the individual and overall productivity of everyone involved. According to research, 75% of employees believe collaboration and communication are very important. For this reason, it's become even more crucial for companies to encourage a collaboration culture.
But with most companies moving online, more workers are now based remotely. This means there is less and less physical interaction between coworkers. So, it's become more crucial to harness web-based technologies to build team collaboration. Currently, up to 80% of companies use collaboration applications for their workplace, with positive results. About 81% of employees rate workplace communication apps positively.
Despite these positive numbers, implementing team collaboration is not a magic wand endeavor. As a manager or business owner, you'll still have to work to ensure that these applications and strategies bring out the best results from your workers. And when this is done, you'd be on the way to maximizing your workers' talents and boosting productivity at your company.
At 500apps, we're passionate about helping you learn the information you need for this. So, in this article, we'll look at what makes successful team communication. We'll also discuss the key factors to promote successful team collaboration at your company.
What is Good Team Collaboration All About?
According to research, remote work has grown more than 40% in recent years, as employers realize that workers don't have to commute to work daily to be productive. And in many industries, workers have become more effective. But this is only possible due to collaborative technologies, which allow workers to combine their efforts from different locations.
So, what is good team collaboration all about? According to leaders in the industry, virtual communication is a way that people can share information and collaborate on projects while not being physically close to each other. It involves the use of web-based technologies to share information online.
Team collaboration employs many technologies, allowing workers to combine their efforts provided there is internet available. These tools range in complexity from online spreadsheets to entire virtual suites where employees can transmit video, text, and voice information. Some of these technologies include:
Instant Messaging
With instant messaging via team chat software, employees can type out their thoughts to a coworker, allowing them to share ideas or crucial information. Team collaboration software also allows team leads to share information, comment on work done, and give instructions, facilitating project management. Another great feature of instant messaging is that it allows for asynchronous collaboration. This way, workers in different time zones can work on a project without inconvenience.
Voice Calling
Voice calls add an extra layer of interactivity by making conversations more natural. According to a report by RingCentral, 76% of workers believe that colleagues who use voice communication are more connected to each other. By introducing the voice element to online collaboration, voice calls humanize the virtual workplace.
Video Conferencing
Voice calls and instant messages are excellent at helping provide personalized conversation. Still, they cannot communicate some aspects of team collaboration. With video calling software, it's possible to show facial expressions and build more trust between coworkers. Additionally, with the ability to share a screen, coworkers can carry out presentations or collaborate on a document in real time, making the process faster and more impactful.
File Sharing
With file sharing, employees can share important workplace documents with coworkers. This allows for collaborative efforts on projects, ensuring that the best quality work is churned out. And this is especially important for new workers, as team leads and managers can review their work and make changes and corrections where needed. This way, they can do better on future assignments and improve their quality of work faster.
Emailing
Email is one of the oldest team collaboration tool. But it's not showing any sign of slowing down, and that's due to its usefulness. According to data from Statista in 2021, more than 306 billion emails are sent and received daily, with more than 4 billion users of the service around the world. With emails, workers can quickly send and receive information.
With these media, it becomes easier for workers worldwide to connect, build their skills, and boost their productivity. Good team collaboration helps coworkers in many ways. Here are a few key components that constitute good team collaboration:
Quick Communication of Ideas
With an excellent team communication app, coworkers can communicate their ideas and intentions quickly and effectively, deriving effective results no matter where they are. So, no matter where a colleague is located, the message can reach them instantly, so there's no lag in progress, and the project can forge on smoothly.
Clear and Concise Communication
Additionally, good team chat software ensures that ideas are communicated clearly. Misunderstanding ideas can seriously impede progress and negatively affect interactions. With good team collaboration, coworkers share their ideas through the right medium that delineates what they want to say.
Excellent Interpersonal Connections
Having great workplace connections is critical for building trust between coworkers. According to the Harvard Business Review, people at high-trust companies experience 50% more productivity and 74% less stress than people at companies with low trust. With improved workplace connections, there are better outcomes for the company and workers, so it becomes a win-win for everyone!
Boosts Participation
An excellent team chat app environment allows people to connect better and share their ideas. This allows for a more balanced and inclusive workplace environment where everyone feels like a part of the journey.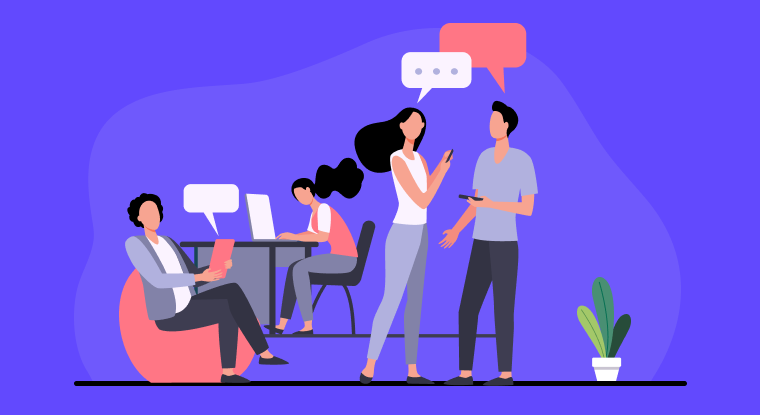 Key Success Factors For Team Communication
As a business manager, one question that may tug is this: how do I ensure that virtual communication will work at my company or team? It's a question that combines multiple factors to be answered. Here are some of these critical factors to look out for:
Quick and Clear Communication of Ideas
Business managers worldwide agree on one thing – a lot of workplace meetings are essentially unproductive. According to reports, roughly $37 billion a year is lost to unproductive meetings. That's a lot of money! To ensure you're not wasting time on unnecessary back-and-forths, ensure that meetings and team collaboration are efficient, and serve specific purposes.
Improved Flexibility
Remote workers can have schedules that vary widely, depending on their location and other factors. Additionally, differing time zones add an extra layer of difficulty, especially for real-time team collaboration. However, to collaborate effectively, you'd need to find a balance. Collaboration software that offers multiple communication channels is always a great idea, allowing you to switch between synchronous and asynchronous communication easily.
Availability of Excellent Software
Team collaboration is a crucial currency for success. Therefore, a business needs the best technology to support collaboration on multiple levels. With tools that support various kinds of communication media, including text, voice, and video, you can carry out synchronous and asynchronous communication effectively. This is one feature that makes Teams.cc stand out as an excellent choice – featuring instant messaging, voice, and video capability.
Positive Internal Branding
Every business has a voice and a personality, and this is what unifies the team. With remote work where in-person interactions are less frequent, it's even more critical to project the company's brand among team members. By promoting an image that team members can key into, you're able to maintain high levels of motivation and high quantities of output.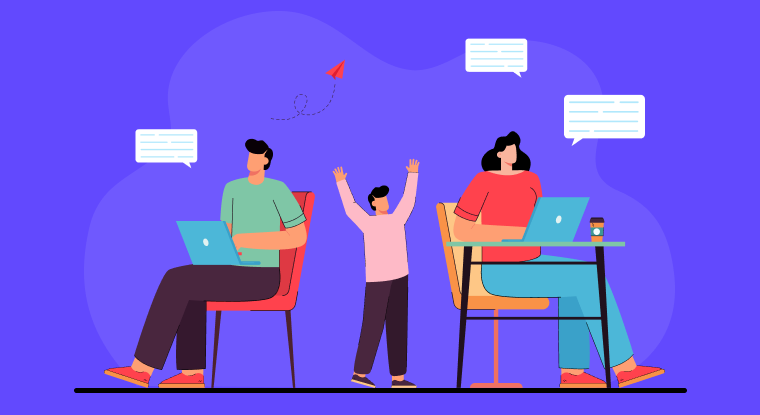 Leading Team Collaboration Software
Having a great collaboration tool is one of the keys to boosting productivity with remote workers. With these tools, it becomes easier to work on your team on general and specialized tasks. Here are a few of the leading virtual software we recommend you check out:
Teams.cc
Teams.cc is a robust, cloud-based collaboration software for teams of any size. Whether your business is fully remote or partly online, Teams.cc has features to harness your team's capabilities, whatever your industry. Teams.cc helps you boost your business productivity, with features from advanced team collaboration with channel management to file sharing and real-time video conferencing.
Slack
With millions of users around the globe, Slack is one of the most popular virtual collaboration apps. With the ability to create multiple channels and interact personally through chat, voice, and video, Slack creates an entire workplace for your company online. Plus, it supports integration with various applications, allowing workers to keep using their favorite tools in one place.
Asana
With Asana, project management is a breeze. With the ability to assign projects to each worker and monitor progress, it's become easier for managers to get a snapshot of what they need seamlessly. With Asana, staying organized and on top of everything is second nature.
Flock
Flock is a sleek team collaboration and communication app. With Flock, workers can chat, send files, or email in one place. And with the ability to manage multiple conversations in one place, you can provide a consistent, high-quality experience for workers.
Conclusion
Successful collaboration is the key to efficiency in the workplace. By employing the key factors we've discussed in this article, you're on track to boosting productivity at your business.
#1
Create unlimited number of public and private channels for an effective team collaboration
#2
Communicate across teams using instant text chat, voice recording, & HD video calling
#3
Share files from local drives and cloud storages with teammates securely
#4
Increase team productivity with mobile access, anytime and anywhere
#5
Find documents, links, specific messages, and more with integrated search
#6
Connect 200+ popular apps to collaborate effortlessly
#7
Personalize messages with reactions, mentions, bulletin points and more
#8
Prioritize information by pinning messages
#9
Unbelievable pricing - the lowest you will ever find
#10
Everything your business needs - 50 apps, 24/5 support and 99.95% uptime
Join the SaaS Revolution
All-in-One Suite of 50 apps

Unbelievable pricing - $14.99/user

24/5 Chat, Phone and Email Support