8 Major Features to Look for in Team Chat Software
Sending messages or sharing essential files and saving everything in the same place can be tedious without a proper team chat tool. A team-oriented agenda may be explored more deeply if various channels are established. Check out these eight features to learn more about what to look for in team chat software.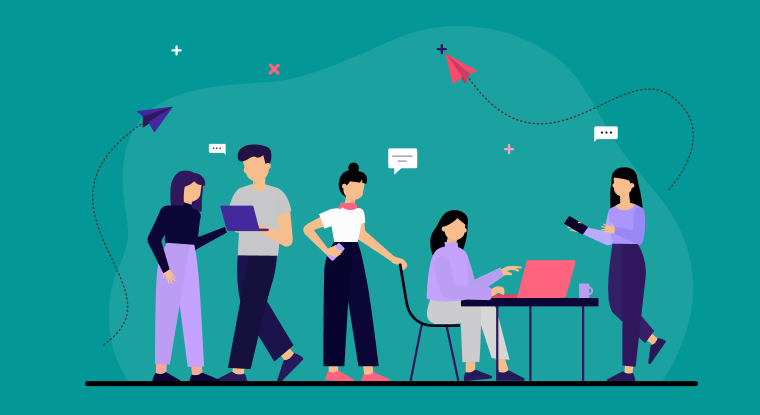 Chatting in Team Chat Software is straightforward. Communicating with your team using team chat software is simple and acts as the correct solution, increasing productivity, safeguarding corporate data, and providing universal search. The following are eight of the most significant characteristics of team chat software. They all make your workday a little less stressful.
This software has several new capabilities that make messaging an essential part of any team's workflow.
Eight Significant Features of Team Chat Software
1. Secure File Sharing
Teams can collaborate more effectively and work more efficiently when files are shared and saved instantly. You can easily share documents, graphics, images, and links from any cloud storage without having to switch windows or tabs on your computer. File sharing makes it easier for you to collaborate on presentations, spreadsheets, and documents with your team. Instant sharing of files and messages, either one-to-one or within a channel, helps expedite your work and get things done faster. Attaching files or documents allows you to send large files or documents quickly. Secure File Sharing sends all of your files safely to specific members. It is recommended that essential files be pinned to both team and personal channels. It would be best if you kept all of your files synchronized between devices, including those sent through channels and direct messages.
2. Private Messaging to Prepare To-Dos
Maintaining an organized to-do list helps you manage your tasks more effectively. Improve your productivity and assist your team in staying up to date with your daily tasks efficiently. You can convert your direct and tagged messages into a daily to-do list and work accordingly. Clearly define your daily objectives and divide each of them into manageable chunks on your to-do list to increase your speed and sustain your concentration. Making a to-do list and organizing the information into different sections will help you work swiftly. For better management, group several tasks and note their most essential points on your to-do list.
3. Intensified Channel Management
Create and manage different channels with channel management features to increase the overall productivity of your workflow while better organizing your team members and collaborating more effectively. Create public channels and make them open and accessible to everyone in your organization so that all can participate. Allow your team members to gather and share their messages and files. Create private channels to communicate and share files with a selected group of team members in a secure environment. Make decisions with your team members and keep all information confidential from non-members. Create an unlimited number of public and private channels to communicate with your team members, and there is no limit to the number of messages you can send. Add multiple users to groups to connect with all team members simultaneously.
4. Save Vital Info With Notes
Easily add project details, deadlines, reminder notes, and more to conversations by creating and saving notes as draft messages. Work on your priority list while simply keeping track of all of your information and notices. Maintaining a detailed record of important decisions that can impact your team's productivity will help you make better decisions. Rich text formatting is already built-in, so formatting your notes should be a breeze!
5. Powerful Third-Party Integrations
Integrate with third-party integration such as Calendar, Google Drive, Meet, and many others to improve project management. To get more done in less time, take advantage of third-party integration and connect the tools you already use. Integrate with Google Calendar to keep track of your daily schedule, create new events, and receive timely meeting reminders, all without having to leave your current conversations. Using Google Meet, you can save time by allowing your team to participate in video calls without having to switch contexts between applications.
6. Search Your Team Members Easily
Go dynamic with an advanced member directory that helps you search for and locate any team member quickly. By simply entering their names in the members' directory search box, you can soon find your team members in your workspace and collaborate with them. Making use of the member directory allows you to quickly connect with others to discuss a follow-up or project without having to waste time. In the member directory, you can add multiple team members simultaneously and instantly communicate with all of them. You can customize and filter the member directory search results by selecting the advanced search option.
7. Keep Important Messages Safe and Accessible
Your messages in various team channels and direct chats can be pinned and saved. By pinning all of your critical data, such as protocol process and other project details, in the discussions, you can easily access them later. Important messages could be pinned for everyone so that they can access them directly through channel details anytime. You can highlight and save the essential items for the project under pinned items in the channel detail section for future reference.
8. Mention or Tag Someone Using '@' Symbol
A group chat tagging feature can deliver important and targeted messages directly to any team member. Create notifications for specific team members and tag them to draw their attention during team discussions. Allocate tasks to particular team members by mentioning their names with the '@' symbol along with the task message in the task message. Directly notify the members of your team and send them notifications for important announcements or tasks that have been assigned to them. Using the '@' all symbol in the channel, you can draw the attention of your entire team to critical messages that have been posted. Start with the '@' sign to get a list of all the particular channel or group members.
Wrapping-Up
The primary strength of team communication app is that it centralizes all activities, debates, and files in one spot to facilitate collaboration within the organization. When appropriate, keep discussions inside the team channel by choosing the option and the team. Organizing multiple channels for delving into a team-focused plan is also helpful for managing the project efficiently.
Sending unlimited messages about anything important is worth doing and discussing. You can either react to a current debate or start a new one by selecting a recent conversation. It is critical to maintain conversations inside the team chat app to guarantee that they are quickly accessible to all members.
There are several tools for team collaboration that provide almost all the above-listed features at different pricing. Choosing a specific tool for your organization that is within the budget is crucial for the company's productivity.
#1
Create unlimited number of public and private channels for an effective team collaboration
#2
Communicate across teams using instant text chat, voice recording, & HD video calling
#3
Share files from local drives and cloud storages with teammates securely
#4
Increase team productivity with mobile access, anytime and anywhere
#5
Find documents, links, specific messages, and more with integrated search
#6
Connect 200+ popular apps to collaborate effortlessly
#7
Personalize messages with reactions, mentions, bulletin points and more
#8
Prioritize information by pinning messages
#9
Unbelievable pricing - the lowest you will ever find
#10
Everything your business needs - 50 apps, 24/5 support and 99.95% uptime