7 Best Team Chat Apps in 2022 for Effective Team Communication
In this article, we explore the seven best team chat apps to boost communication in the modern workplace.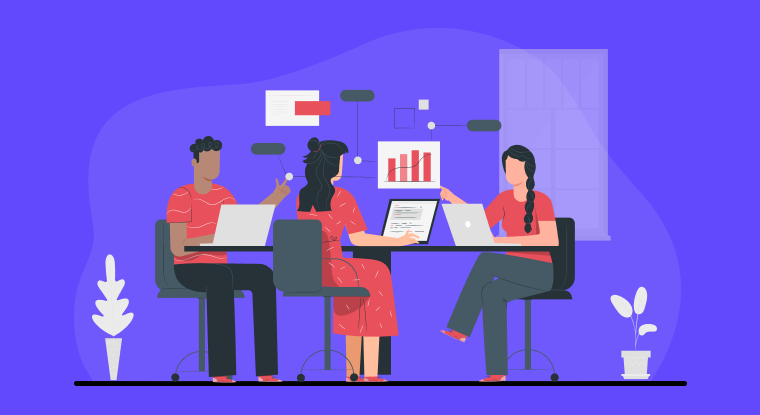 Effective team communication with a team chat app is crucial for having a productive team at your business. And with many teams running online in today's digital world, it's essential to harness digital communication properly. Today, thousands of companies are incorporating digital communication tools into their workplace structure. And it's worked for most of them. Today, the global online collaboration market is worth $16 billion, and it's expected to grow even more.
Research by Forrester in 2019 shows that the best team chat app can save small teams hundreds of thousands of dollars yearly. However, for your team to maximize the digital workplace effectively, you'd need team chat software that best suits your business. With the right digital communication tools, you can elevate productivity to new heights.
This article looks at seven of the best workplace team chat apps you can employ in your business. With these apps, you're sure to have the best features that meet your needs. Whether you're a small or large business, and whatever your industry, there's something for you here!
List of the 7 Best Workplace Team Chat Apps Globally
Teams.cc
Teams.cc is an all-in-one team chat app tool for your business, offering a host of features for collaboration on multiple projects. With efficient channel management, team leads and managers can create multiple projects with separate communication channels. Channel messaging also allows team members and managers to send instant messages to everyone. This way, everyone stays updated and on track at all times.
Teams.cc also offers Live Chat and voice-call functionalities, allowing team members to communicate in real-time and more organic settings. With support for various file types, such as documents, spreadsheets, videos, and photos, this team chat app can enrich the conversation. This way, team members can help each other produce better work.
Teams.cc offers mobile support with its highly intuitive mobile app, allowing team members to collaborate and stay up-to-date while on the go. With tons of third-party integration such as Google Drive and Calendar, your team members can keep using their favorite apps without switching platforms. With support for unlimited team members on each channel, Teams.cc offers terrific value for its price, at only $14.99 a month. What's more? This team chat app also comes with 30+ apps in the 500apps suite, allowing you to take your team's productivity to the next level in a sleek manner.
Slack
Slack is one of the best project management and team chat apps. According to a 2015 survey, teams using the app experienced a massive 32% drop in email use. With Slack, managing multiple projects is a breeze. You can create and join different channels, assigning each channel to a project. You can add team members to each channel depending on the project, and coworkers can send group messages.
Additionally, team members can send private messages if necessary, streamlining processes even further. And with mobile notification functionality, Slack ensures you stay updated at all times. Slack also offers integration with a ton of other apps, including Google Drive, ZenDesk, Salesforce, MailChimp, and more!
Flock
Flock is a cloud-based, affordable team chat app for team collaboration. It facilitates collaboration within teams of various sizes and allows team members to share messages in various forms. Workers can send text messages, share their screens, have video calls, upload documents, and more.
Additionally, synchronous and asynchronous communication is a breeze with Flock. Team members can also schedule video and audio calls. And with the ability to set reminders and due dates, everyone always remains on track. Flock also offers integration with other productivity apps such as Trello and GitHub, and pricing is per user per month.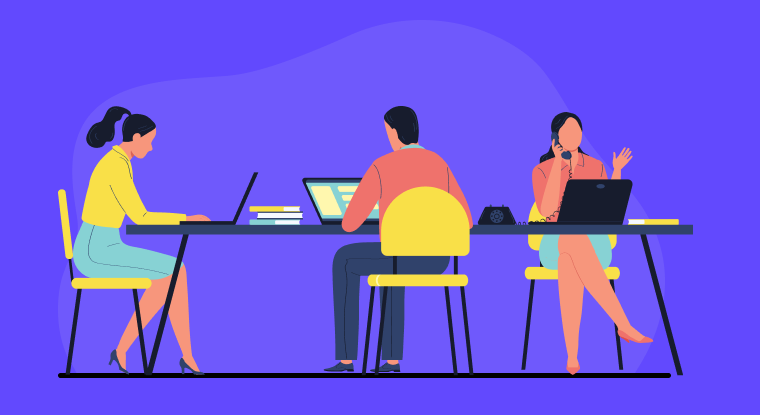 Chanty
With a user rating of 4.7 stars on Capterra, Chanty is a sleek chat app for teams to collaborate on projects. Aimed at helping small and medium enterprises maximize productivity, Chanty allows teams to communicate with unlimited text messages, file sharing, and video conferencing, among other features.
Adding tasks is also easy on Chanty, as users can convert any message into a task. This makes task management easy, and managers can assign tasks seamlessly. With advanced search capabilities, users can find what they need quickly and work faster. Chanty's team chat app is available on mobile devices via iOS and Android platforms.
ProofHub
ProofHub is a cloud-based team collaboration and project management tool for businesses. ProofHub allows team members to carry out asynchronous communication seamlessly. It is also great for project management. Loved by thousands of teams worldwide, ProofHub's suite of features includes Gantt charts, time-tracking tools, Kanban boards, and more. Moreover, ProofHub integrates with other apps, such as Google Drive, Dropbox, Freshbooks, etc. Pricing starts at $45 per month and comes with a 14-day free trial.
Salesforce Chatter
Salesforce Chatter is an online team chat app that allows team members to communicate and collaborate using the Salesforce platform. It is a merger between social media apps and CRM software, allowing your team to hold work conversations in a highly intuitive environment. You can also share files, videos, and photos and reach coworkers directly by mentioning them in a message.
You can also create posts and view news feeds, more or less like LinkedIn, on the app. Salesforce Chatter comes for free with a Salesforce subscription, but it can be purchased standalone at $15 per user per month.
Microsoft Teams
Microsoft Teams is a standout team communication software from the stables of Microsoft 365 and is excellent for businesses of any size or type. It offers many features to make team communication easier, by creating a shared workspace for everyone on the team. On Microsoft Teams, users can create and join various channels, on a single team chat app - where they can work on specific projects.
Team members can also use the chat function to initiate conversations and share files of multiple types. Microsoft Teams also offers video calling and audio conferencing features, allowing real-time conversations in a consistent interface. Microsoft Teams comes for free with a Microsoft 365 or Office 365 license.
Conclusion
Choosing the right team chat app for your business will help boost your team's productivity in an innovative, efficient way. So, take your time to explore your options, and choose one that best meets your needs. With an amazing team collaboration tool, you're set to take your business to new heights.
#1
Create unlimited number of public and private channels for an effective team collaboration
#2
Communicate across teams using instant text chat, voice recording, & HD video calling
#3
Share files from local drives and cloud storages with teammates securely
#4
Increase team productivity with mobile access, anytime and anywhere
#5
Find documents, links, specific messages, and more with integrated search
#6
Connect 200+ popular apps to collaborate effortlessly
#7
Personalize messages with reactions, mentions, bulletin points and more
#8
Prioritize information by pinning messages
#9
Unbelievable pricing - the lowest you will ever find
#10
Everything your business needs - 50 apps, 24/5 support and 99.95% uptime
Join the SaaS Revolution
All-in-One Suite of 50 apps

Unbelievable pricing - $14.99/user

24/5 Chat, Phone and Email Support