8 Ways to Keep Teams Engaged With Collaboration Software
Most of the businesses are quickly transforming their processes to support employees to work from home. Here are eight tested ways to keep employees engaged when working from an offsite location.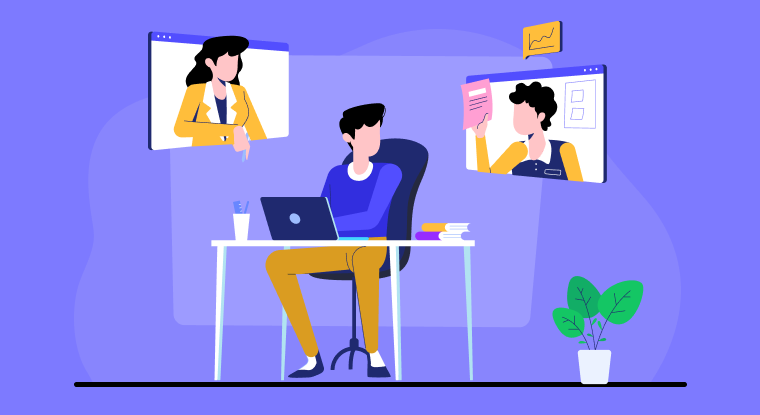 "Remote work is the FUTURE of work." Little did the world know that this prophetic quote by Reddit co-founder Alexis Ohanian would come true in 2020. Two years later, an increasing number of businesses are quickly transforming their processes to support employees to work from home.
Here are eight tested ways to keep employees engaged when working from an offsite location.
Stay Connected With Team Chat Software
Work-from-home can be a socially isolating experience for employees. It can also be a logistic nightmare for unprepared businesses. Fortunately, using leading team chat software like Teams.cc is an easy fix for both.
This digital technology empowers your business to remain connected and collaborative, even when employees are working from different locations. Its fuss-free messaging app is a particular boon for instant updates, both for private messages and team chats. It can also be accessed through computers (PCs and laptops) and smartphones to cover a wide employee base.
Consciously Promote Social Interactions
Humans are social animals. But remote work can take away all the fun to be had from water-cooler gossip, tea-time jokes, birthday celebrations, TGIF, and more. So instead, nurture social engagement within your teams through planned "social hours" and offsite activities. For instance, you can use a mix of audio and video sessions to encourage (unofficial) interaction and camaraderie within teams. Studies indicate employees are more likely to be productive when they like and connect with fellow employees. The voice and video calls featured from Teams.cc are easy to facilitate.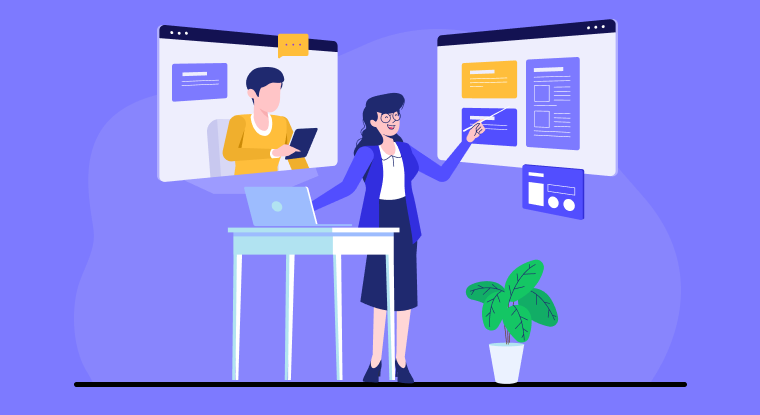 Show Your Team You Care
It's easy to get lost in machines (like computers or smartphones) when you're working from home. With this, healthy interpersonal interactions often take a backseat. Consciously show your team that you care with these few simple tips.
Respect personal time (with reasonable boundaries). Allow them to enjoy the flexibility of work-from-home without feeling suffocated.

Set up times/meetings for work-related discussions and offline chats. Use this time to catch up on workload expectations, social and logistic challenges, mental health concerns, mentoring, and more.
Here, Teams.cc empowers users with features like private and channel (team) messaging, mobile access, and notes management to make (remote) collaboration a seamless affair.
Actively Ask for and Give Feedback
With remote work, team managers will have to be a lot more proactive about giving and receiving feedback. It's good to schedule a monthly session (at least) just for two-way feedback. If your business is new to remote work, this is good to understand what's working for the individual and between teams, opportunities for improvement, and constructive feedback. The notes management feature from the team chat app - Teams.cc helps you keep track of all meetings conducted between employees.
Step-up on Employee Recognition
You know that old adage, "Out of sight, out of mind"? Let this not become your mantra in a work-from-home situation! Keep your company's rewards and recognition policy alive even during remote-work situations. Employees can be tempted to log in more hours when working from home, especially when they save long hours of commute. Don't forget to recognize increased productivity by consciously making rewards and recognition a business priority.
Support New Hires
New Hires bring fresh ideas and energy to your business. They also promote the growth and stability of existing employees as you re-iterate your intention to grow your business. But new employees also tend to require 30% more support than existing employees, especially in a remote working situation.
Support new hires with an onboarding kit (easy to do with the file-sharing feature from Teams.cc), so they are empowered to be connected and productive from the word go. Assign mentors to help them get into the flow. Schedule fortnightly catch-up meets to track their progress.
Provide Tools to Succeed
Work-from-home can be a blessing to many due to the flexibility it provides. However, it can also bring its own set of logistic challenges. Empower your team with tools for success by keeping on top of the following elements:
Mobile Access: Businesses typically tend to restrict access due to security challenges. But did you know that remote team collaboration like Teams.cc can facilitate mobile access with additional security? The tool also has a built-in messaging feature for employees to connect and collaborate, even remotely.
File Sharing: This could be used for training documents and software, onboarding kits, inter-team communication, and more. Teams.cc facilitates this through third-party integration with Google Drive features.
Shared Calendars: This must-have feature facilitates team meetings across multiple remote locations. Support productive team meetings using Google meet for video calls: With this, your employees can seamlessly switch between messaging apps, audio calls, and video calls without losing context or impacting productivity.
Provide Flexibility
Do you know that studies indicate employees demonstrate increased productivity when offered flexibility? But no one size fits all. So you may have to be creative with the flexibility you offer individual employees.
For instance, some employees may require flexible working hours, especially if they are caring for infants or seniors. This is achievable by setting up standard login hours (useful for team meetings and group collaborations) and flexible hours (useful for independent work), ensuring no conflict between employees.
Another example of flexibility could be support for co-working spaces. This is especially useful for new hires who do not immediately have the logistics to work from home. In this case, businesses can offer a monthly stipend to cover the same.
Why Teams.cc is the Best Collaboration Software for Remote Work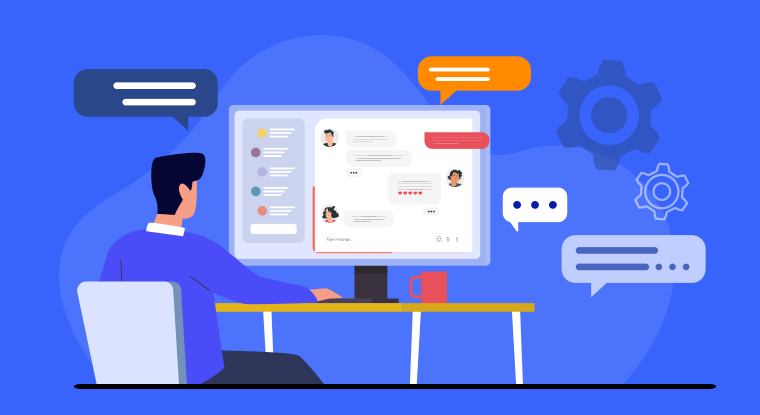 When you allow your employees to work from home, you're not just enabling a few individuals; you're building a whole ecosystem for (remote) collaboration. The Infinity Suite from 500apps provides an Inter-connected Suite of business-friendly digital apps for optimal collaboration and productivity.
Some of Their Highlight Features Include:
Collaboration and productivity tools from Teams.cc. This includes facilitating remote logins, file sharing, instant messaging, and video calls, all done through a secure interface.

500Conference, a digital app for promoting engagement between remotely connected teams.

Projectsly - Project Management Tool, Schedule.cc - Appointment Scheduling System, Clockly - Employee Tracker Software, to monitor, track and optimize productivity between teams.

HR & recruiter-friendly software like RecruitHire and NinjaInterview to optimize remote operations.
For businesses, all this and more are available for the price of $14.99. This includes 39+ digital apps at present, with new apps being added periodically. Before investing in the entire suite, businesses can also use the FREE option to test-drive Teams.cc (free for up to 10 users).
To understand how the Infinite Suite can empower YOUR business, visit 500apps today."
#1
Create unlimited number of public and private channels for an effective team collaboration
#2
Communicate across teams using instant text chat, voice recording, & HD video calling
#3
Share files from local drives and cloud storages with teammates securely
#4
Increase team productivity with mobile access, anytime and anywhere
#5
Find documents, links, specific messages, and more with integrated search
#6
Connect 200+ popular apps to collaborate effortlessly
#7
Personalize messages with reactions, mentions, bulletin points and more
#8
Prioritize information by pinning messages
#9
Unbelievable pricing - the lowest you will ever find
#10
Everything your business needs - 50 apps, 24/5 support and 99.95% uptime
Join the SaaS Revolution
All-in-One Suite of 50 apps

Unbelievable pricing - $14.99/user

24/5 Chat, Phone and Email Support