5 Ways to Engage a Demotivated Team With Teamwork Collaboration
There is nothing wrong with your employees becoming dissatisfied from time to time. It occurs to everyone. However, if this is something you have to deal with on a regular basis, it can have a detrimental impact on your business. Your workers may be dissatisfied because you speak with them seldom.
So, your team is demotivated, and you wonder how you can get their spirits up again. This post will help you understand why your teamwork collaboration efforts can be improved in the first place and how you can inspire your team.
There is nothing wrong with your staff getting demotivated from time to time. It happens to everyone. But if this is something you keep dealing with more often, it can negatively affect your company. Your employees could be uninspired because you rarely communicate with them. Maybe your payment structure is an issue, or they are tired of micromanagement. Poor leadership in your team can also demoralize your staff. That's not all; if your company is unclear about your teams' career opportunities, then you can be sure they won't be motivated to work for you.
All these issues can be solved if you knew how well to engage with your team. It all comes down to communication. Unfortunately, most team leaders and managers overlook the importance of effective teamwork collaboration. Now that you are interested in improving your communication, it's good to know what you should be doing to ensure this doesn't have to affect your company's performance again.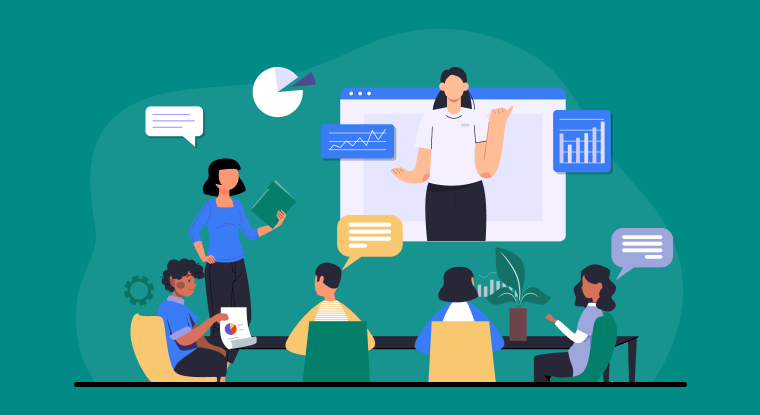 Tips to Successful Teamwork Collaboration - Ways to Boost Team Morale
Provide the Right Resources
Let's kick off with the basics here. To encourage teamwork collaboration to continue working for you, it's important to provide them with the right resources. So, your first step should be to evaluate whether you are using ideal communication and productivity tools. For example, it could be that your employees are not motivated because you don't create a conducive working environment.
With regards to improving teamwork collaboration and communciation efforts, consider using digital communication tools. Of course, we're not talking about using emails. Your teams have been using emails to reach you, but it's still not working. It's time for an upgrade. A more efficient communication platform you should use is Teams.cc. There's so much to gain when you use team chat software to engage with your employees.
Improved Communication
Teams.cc is designed to boost teamwork collaboration between employees. Certainly, the pandemic has thrown our lives off balance, and it might not be possible to meet physically. Using a team chat tool lets you collaborate with your teams as though you were there in person, which is a great way to keep the conversation going. Besides sending text messages, you can also share files and documents and engage in face-to-face video calls.
Streamlined Workflow
Working toward efficiency is also something that would have helped to motivate your employees. To achieve this, a teamwork collaboration solution can play a significant role. Team chat software like Teams.cc helps to streamline workflow. Using this tool, you can virtually engage with your teams and keep them in the loop about current projects and anything else that is important.
Enhanced Employee Engagement
You can be sure that your teamwork collaboration efforts will engage better using a team chat tool. In turn, this could lead to increased productivity. The more your employees work together toward a common goal, the more likely they will feel encouraged. They can also use team chat software to create channels where they inspire themselves every day. The chat software isn't meant for work only. The tool allows your team members to build better relationships, transforming into a highly motivated team.
Better Project Management
Effective project management is what every company needs. However, this is only possible when coordination is in place. Effective teamwork collaboration with your team prevents confusion and the likelihood of repeating mistakes. Moreover, the right form of communication guarantees that your workers are on track. Therefore, using Teams.cc to facilitate a better way to manage projects is important. By eliminating the traps that often lead to frustrations, you can be sure you are on the right path to motivating them.
You've noticed that there is so much you can gain from team chat software. Teamwork collaboration can play a significant part in inspiring your unmotivated team.
Strengthen the Team Relationships
A healthy working relationship can pave the way for a stronger and more collaborative workforce. Chatting with your fellow workmates whenever you feel stuck can fuel you to complete a specific task. You can also rely on your team for inspiration, especially if you have channels where teams encourage each other to keep doing their best. Arguably, all this is possible if you choose to use a team communication app. It brings your employees together to share ideas and help each other out in different situations.
Stay Organized
Team chat software allows you to stay organized. You don't have to worry about your teams missing deadlines or failing to meet their expectations. Since they will be continuously updated on any projects' requirements, there is a good chance that they will deliver. The advantage gained here is that your teamwork collaboration efforts will work in a helpful environment where they feel valued. The positive perception they have about your team will influence their performance. At the end of the day, your company benefits.
Focus on the Big Picture
As a team leader, you should refrain from micromanaging your team. The idea of using a digital teamwork collaboration tool doesn't necessarily give you a platform where you can give orders around. This won't help. However, communication goes both ways. Allow your team members to talk to you. So, be out there and listen to them. Doing this creates a good impression of your company.
Involve the Team Members
Finally, it should be made clear that you can't handle all the pressure from your teams. In other words, you can't solve the problems your employees face on your own. Therefore, you must involve the team members for succeesful teamwork collaboration. Talk to them about the idea of using team communication app like Teams.cc. Make them understand why they will benefit from using this handy software. It shouldn't be just about your company. Create an inclusive environment where your team members feel appreciated.
These five tips should get you on the right track to lift the spirits of your employees.Try the efficient tools like teams.cc by 500apps to translate your work environment for the better.
#1
Create unlimited number of public and private channels for an effective team collaboration
#2
Communicate across teams using instant text chat, voice recording, & HD video calling
#3
Share files from local drives and cloud storages with teammates securely
#4
Increase team productivity with mobile access, anytime and anywhere
#5
Find documents, links, specific messages, and more with integrated search
#6
Connect 200+ popular apps to collaborate effortlessly
#7
Personalize messages with reactions, mentions, bulletin points and more
#8
Prioritize information by pinning messages
#9
Unbelievable pricing - the lowest you will ever find
#10
Everything your business needs - 50 apps, 24/5 support and 99.95% uptime