How to Pick the Right Team Chat App for Your Team
If you want your business to run smoothly, then you need to make sure your team can communicate effectively with each other. The best way to do this is by using one of the best team chat apps available.
There is this thing called an "upset" in sports, where the underdog team beats the heavy favorite. Now you are probably wondering how any of this is relevant. Well, it is relevant because the underdogs won through their teamwork and team chat - communication. And communication applies to every field of life, may it be sports, projects, or even businesses.
If you are running a business then one of the things you need to make sure of is that your members have productive and efficient communication with each other. What better way to achieve this than the use of the best team chat app out there?
Team chat apps are apps that allow various team members to constantly stay in touch with each other over the internet. They can connect from anywhere at any time and contribute as an essential part of the team.
Choosing the right team chats for your business is crucial as it can control the outcome of your team's effort. Let's dig deeper into the perks of having a team chat app and help you choose the one that suits you best.
Benefits of a Powerful Team Chat App
The first thing that goes without saying is that team chat apps directly translate to better communication among members of the team. You aren't getting any points for guessing that, it was that obvious. Resulting of this communication is a streamlined workflow. The members can have daily virtual meetings and discuss all the important issues.
If you are a business owner, then you already know how hard it is to manage and supervise employees. Team chat apps, however, solve this issue instantly. They improve employee management while enabling a better workflow. Team chat apps are digital tools and these apps such as Teams.cc focus on increased accountability and help instruct the employees better. Once they are held accountable, the projects and contributions will fall into place as well.
You must be feeling like a coach at this point with all the benefits a team chat app provides. We don't even blame you because this is exactly how such apps can help you. They help you control your team and focus on efficient and diligent work for your business.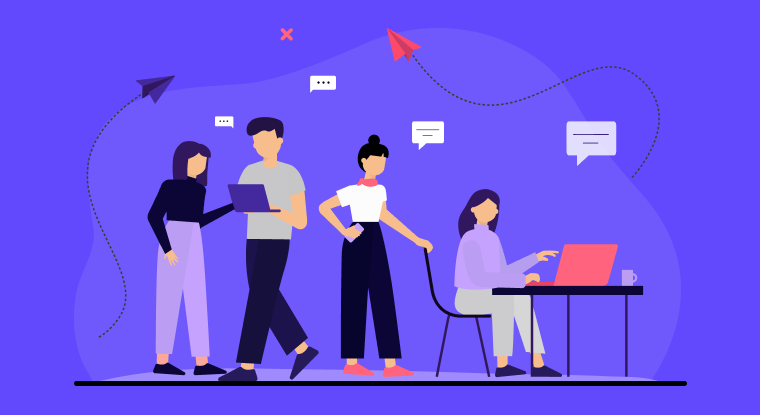 What Qualities Make a Good Team Chat App?
There are plenty of team chat apps on the internet, but some are far better than others. This is because these apps have certain features about them that give them the edge. We can get into the nitty-gritty details of the best apps later, but for now, let us focus on what generally makes an app good.
Messaging in the cloud is the basic requirement of any good communication app. The potential to organize teams and have selective communication with them is a major plus. You could say that good apps allow file sharing, but truthfully, one of the standout features of a good team chat app such as Teams.cc is the potential for third-party integration.
What better way to reach the full potential of your team than to allow them to work using the best features from other applications as well? Have a look at some of the best team chat apps down below.
Slack
If you have used enough internet, you have heard of slack. The thing is, that slack is a Swiss army knife, that has functions for every possible situation, only it is an app and not an actual knife. Advanced features such as tracking messages and documents, along with managing options make it an easy option for businesses to choose.
With slack, the potential is so high that you can use it for any business, big or small. Where else will you find a team chat app with the ability to use shared channels across workplaces that not only companies, but individuals such as freelancers love to have?
Teams.cc
We have made it no secret, that Teams. cc is one of the best apps out there. Unified messaging coupled with unobstructed video and audio sharing will make you and your team members drool at the smoothness with which you will be able to operate.
We are sure that you don't need more convincing, but if you do, then you should know that this app has built-in chatbots, project management applications, an appointment schedule, a calendar, and everything that you can ask for.
Flock
Flock is an extremely unique and fun team chat app. You can share to-dos with your fellows and come up with a lot of good plans for solving tasks. Comment your team by highlighting their good suggestions and efforts. Make use of unlimited channels and make informed decisions with the help of your team. Flock can be your one-stop shop for all communication needs and you cannot go wrong with it.
Conclusion
These apps are the best of the best and many of them will bring your business prosperity in many ways, some of which we have mentioned, the others, you shall find out eventually.
#1
Create unlimited number of public and private channels for an effective team collaboration
#2
Communicate across teams using instant text chat, voice recording, & HD video calling
#3
Share files from local drives and cloud storages with teammates securely
#4
Increase team productivity with mobile access, anytime and anywhere
#5
Find documents, links, specific messages, and more with integrated search
#6
Connect 200+ popular apps to collaborate effortlessly
#7
Personalize messages with reactions, mentions, bulletin points and more
#8
Prioritize information by pinning messages
#9
Unbelievable pricing - the lowest you will ever find
#10
Everything your business needs - 50 apps, 24/5 support and 99.95% uptime
Join the SaaS Revolution
All-in-One Suite of 50 apps

Unbelievable pricing - $14.99/user

24/5 Chat, Phone and Email Support